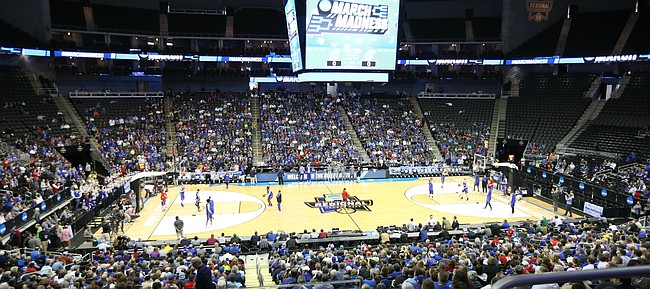 Monday postseason basketball is no longer just reserved for the national championship game. Instead, Monday games will be a prominent part of the 2021 NCAA Tournament, the NCAA announced on Tuesday.
As part of a few scheduling changes made possible by the event taking place entirely in the state of Indiana later this year, both the second round and Elite Eight of this year's men's tournament will feature Monday games.
First-round games will take place Friday and Saturday, March 19 and 20 and the second round will be played on Sunday and Monday, March 21 and 22.
Mackey Arena in West Lafayette, Ind., and Simon Skjodt Assembly Hall in Bloomington, Ind., will each host two First Four games on Thursday, March 18.
Those venues then will join Bankers Life Fieldhouse, Hinkle Fieldhouse, Indiana Farmers Coliseum and Lucas Oil Stadium in Indianapolis as hosts of this year's first-round games.
Starting with the second round, the four Indianapolis venues will host the rest of this year's tournament.
This year's Sweet 16 will be played entirely at Bankers Life Fieldhouse and Hinkle Fieldhouse on Saturday and Sunday, March 27 and 28, with each of the eight games getting its own television window.
In the past, Sweet 16 games were played in prime time, with two games overlapping each other in the evening sessions. In 2021, all eight Sweet 16 games will be played at separate times.
The Elite Eight will take place entirely in prime time on Monday, March 29 and Tuesday, March 30. And the Final Four and national title games will be played in their normal spots, on Saturday, April 3 and Monday, April 5 at Lucas Oil Stadium.
In all, 55 of the 67 games played in the 2021 NCAA Tournament will take place in Indianapolis. The predetermined site and close proximity of most of the venues made it possible for these changes to be implemented for the 2021 tourney.
NCAA Senior Vice President of Basketball Dan Gavitt said in a news release announcing the 2021 schedule that the health and safety protocols for all participants was the main reason behind the scheduling changes.
But Gavitt added that the goal was always for the NCAA to host the event "during a relatively traditional tournament timetable."
While specific game times will be announced when the event gets closer, the NCAA announced Tuesday that the early-round games still will be shown in typical broadcast windows on TBS, CBS, TNT and truTV.