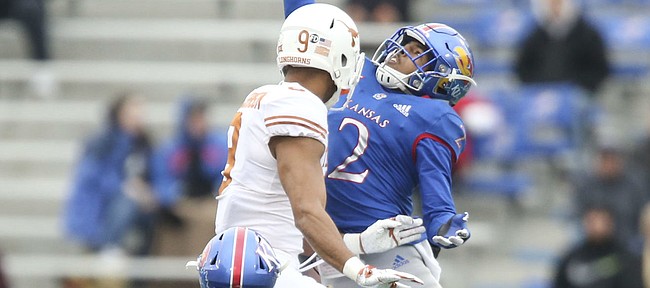 After three years playing for an FBS program at Kansas, defensive back Corione Harris plans to finish his college career at the FCS level.
The former KU cornerback and safety announced Monday his decision to commit to McNeese, which plays in the Southland Conference.
Harris, who signed with Kansas in 2018 as a four-star prospect from Louisiana, entered the NCAA's transfer portal in early January following a 2020 season in which he played exclusively as a reserve.
Formerly a starting cornerback as a freshman and sophomore, Harris moved to safety ahead of what would become his last year in the program. An offseason suspension tied to an arrest was lifted by KU head coach Les Miles just before the season began, and Miles and the staff moved Harris to a position group where they hoped he could fill a need.
Harris appeared in seven games as a backup, made 11 total tackles, and was credited with a forced fumble.
Over the course of Harris' three seasons with KU football, he made 70 total tackles, in 28 career games. The 6-foot-1 defensive back made one interception and one tackle for loss.
Among the KU players who were with the football program when it resumed activities this past summer, 18 of them have since entered the transfer portal. Twelve were seniors in 2020, and two others were walk-ons.
KU players from 2020 roster who entered the transfer portal
• Andrew Parchment, senior WR (Florida State)
• Elijah Jones, senior CB (Oregon State)
• Stephon Robinson Jr., senior WR (Northwestern)
• Kyle Mayberry, senior CB (Utah State)
• Corione Harris, junior DB (McNeese)
• Davon Ferguson, junior S
• Denzel Feaster, senior LB
• Api Mane, senior OL
• Kyle Thompson, senior P
• Ezra Naylor II, senior WR
• Jack Luavasa, senior TE
• James Sosinski, senior TE
• Jalan Robinson, sophomore OL
• Antione Frazier, senior OL (Northern Iowa)
• Julian Chandler, senior DB
• Clinton Anokwuru, freshman DL (Louisiana)
• Hunter Kaufman, walk-on junior WR
• Lawrence Shadd III, walk-on redshirt freshman WR (Butler C.C)