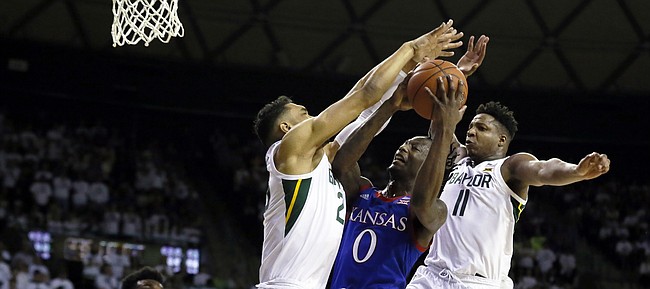 No. 9 Kansas Jayhawks (10-3 overall, 4-2 Big 12) vs. No. 2 Baylor Bears (12-0 overall, 5-0 Big 12)
Time: 8 p.m., Monday, Jan. 18, 2021
Location: Ferrell Center, Waco, Texas
TV: ESPN | Radio: IMG Jayhawk Radio Network
Log on to KUsports.com for our live game blog coverage and follow the KUsports.com staff on Twitter: @KUSports @mctait @bentonasmith & @SJacksonLJW
Keys for Kansas
1. Offensive rebounding & extra possessions
These two teams are among the best in the country in getting opportunities off of the offensive glass and that plays a huge part in both of them ranking in the Top 25 of KenPom.com's offensive efficiency ratings.
Baylor, at 38.2%, ranks eighth nationally in offensive rebounding percentage and the Jayhawks, at 35.1%, rank 23rd in that department.
The Bears' attack features five players who consistently get on the offensive glass, with Mark Vital and Jonathan Tchamwa Tchatchoua leading the way. BU has recorded double-digit offensive rebounds in eight of their 12 games this season, with a whopping 21 against Washington and 10 or more in three of its five Big 12 games.
Kansas, meanwhile, gets a lot of its offensive rebounding from its guards, with Jalen Wilson, Ochai Agbaji, Christian Braun and even seldom-used Tyon Grant-Foster all being big factors in that area at times this season.
Both teams own a rebounding advantage over their opponents so far this season — Baylor +7.1 per game and Kansas +8.1 — but stealing possessions off of the offensive glass is not the only way they've found ways to tilt the posssesion contest in their favors.
Baylor's defense is also among the best in forcing turnovers, ranking first in the Big 12 in turnover percentage (25.3%) and steal percentage (13.1%).
While that sounds daunting for the Kansas offense, the Jayhawks could match it with their defense, as the Bears rank eighth and ninth in the Big 12 in those same categories on offense.
KU, however, has not show a tendency to take advantage of that on a consistent basis yet this season. The jayhawks rank eighth in the conference in forcing turnovers (16.8%) and dead last in steal percentage (7%).
For the past couple of weeks, Kansas coach Bill Self has been asking for his team to play a more turned up style.
If they're able to do that in this one, that could lead to KU winning the battle on the offensive glass and extra opportunities from its defense.
2. Take pride in defending
A lot of the Jayhawks' emphasis in the days since their loss at Oklahoma State on Tuesday night — including the extra day off with the postponement of the Iowa State game — has been on playing better defense and taking pride in doing it.
"We don't have the margin for error not to be good on that end," Self said this week.
Whether it's transition D, which plagued them at OSU, man-to-man defense, which has been a staple at Kansas under Self, or the team concepts that have always made Self's team's so stout on the defensive end, the Jayhawks believe that improvement in one area can elevate the defense across the board.
"It wasn't that they were just better than us as a team," KU sophomore Christian Braun said of Oklahoma State. "They just played harder than us. You have to take more pride in getting on the floor first and defensive stuff and then you can worry about the offensive stuff later."
If the Jayhawks can respond to their defensive dud at Oklahoma State with a strong showing at Baylor, it could do wonders for this team's confidence and approach to the rest of the season.
Doing that, of course, will not be easy.
Baylor ranks fourth nationally, per KenPom.com, in offensive efficiency — bested only by its No. 1 ranking in defensive efficiency — and the Bears feature a patient, yet potent offensive attack that can generate offense from all five spots on the floor.
An example of that came Saturday in Baylor's road win at Texas Tech.
Junior guard Jared Butler, who leads the Bears in scoring at 16.3 points per game, missed his first nine shots and did not even score until the game's final five minutes. But the All-American candidate hit a pair of huge 3-pointers late to help BU remain unbeaten.
To help pick up the slack for Butler's off day, reserve guard Adam Flagler, who is one of three Bears averaging more than 15 points a game this season, scored 15 of the team's 26 bench points to help BU get out of Lubbock with the win.
Baylor also is one of the nation's best 3-point shooting teams, averaging more than 10 makes per game and shooting 42.3% from behind the arc.
BU also limits opponents to 30% 3-point shooting and just 5.7 3-point makes per game, and has been outscored from 3-point range just once in 12 games so far this season.

These two teams played a pair of games in the 60s last season, with Kansas falling to Baylor 67-55 at home in Round 1 and winning the rematch, 64-61, later in the season in Waco.
While both teams can score in bunches — Baylor has scored 80+ eight times this season, including five games above 90 — it typically has been the defense that flexes strongest when they match up, underlining the importance of every possession from start to finish.
3. Rise to the challenge
Saturday's home game against Iowa State was dubbed by some as a 'get right game,' and the Jayhawks certainly could have used the buffer between their loss at Oklahoma State and a challenge like this one.
But there's no reason to think that the KU players will be overwhelmed or intimidated by the idea of facing Baylor, even with a recent loss still fresh in their minds.
Remember, these guys like for these types of games and several Jayhawks have played in plenty of them before.
Baylor is one of the nation's most efficient teams and the Bears rarely do things to beat themselves. With that being the case, Kansas has to match that, as well.
The Jayhawks have been a little careless with the ball at times this season, and Braun described their approach to defense as occasionally being "too cool." Neither of those things will fly against Baylor and many of the Bears still remember that home loss to Kansas a season ago that knocked them from the No. 1 spot in the polls and came in front of the best home environment the Bears have ever experienced.
So as much as KU figures to be the team that's sharp and locked in because of its recent loss, Baylor's memory of that game might even the playing field a little in that department.
Kansas has not lost back-to-back conference games since the 2012-13 season, when they lost three in a row to Oklahoma State, TCU and Oklahoma.
As much as this one figures to be about X's and O's and execution, the simple concept of stepping up to the challenge and not being timid in the moment could play almost as big of a role.
Marquee Matchup
Kansas senior Marcus Garrett vs. Baylor senior Mark Vital
Both were in the mix for the Naismith Award's national defensive player of the year honor after the 2019-20 season. And both have been called the ultimate teammate and elite jack-of-all-trades types.
Even if they don't spend much time guarding each other or matched up with one another on either end, Garrett and Vital have a way of making their impact felt all over the floor.
Both can get on the glass and defend. Both can facilitate quality offensive possessions. And both are willing to sacrifice their bodies in the name of competition.
Vital enters this one with modest averages that do not fully illustrate his impact. He is averaging 5.8 points per game and 5.3 rebounds while also leading the Bears with 11 blocks.
Garrett, who has moved over to point guard full time for Kansas this season, enters this one fourth on the team in scoring (9.2 points per game), fifth in rebounds (4.4 per game) and as KU's leader in assists (43) and steals (19).
Garrett's numbers and impact have been a little lower than many expected, mostly because he is playing a different role and facing different challenges than he did during his first three seasons with the program.
He's still one of KU's most reliable players on both ends and often factors into KU's key possessions.
Self was asked last week if the Jayhawks could do anything to give Garrett some help and free him up a little, but with Bryce Thompson out with an injury and backup point guard Dajuan Harris not fully ready for a heavy workload, Self said taking Garrett off the ball was unlikely.
"I think he's doing pretty good," Self said of his senior leader. "I think that there's still other things that others can do to help Marc, and I think there's a ton of things that Marc can do to help Marc and us."
Many of those things have to do with offensive efficiency, finding ways to get easy baskets and team defense. All of those areas will be extremely challenging against Baylor.
Garrett figures to have his hands full with Butler and MaCio Teague and Davion Mitchell throughout this one, so it's nearly impossible to envision a Garrett-Vital clash deciding this one.
But there's little doubt that whichever player makes more big plays for his team figures to put his squad in position to come out on top.
Jayhawk Pulse
It won't have been that long since Kansas played a game (6 days), but the fact that the Jayhawks had their schedule disrupted in the middle of it brings the question of rust or rest into play here.
For much of last week, in preparation for its Saturday game against Iowa State that was postponed at the last minute, KU spent its practice and film time on the Cyclones.
The news of the postponement did not come until Friday evening, giving KU just one extra day to look ahead to Baylor and less than three days total, with one of them being a travel day.
The 8 p.m. start will give KU plenty of time to go over the scouting report a couple more times on Monday while still having an extensive walk-through. But most of that will be mental prep, as the Jayhawks will want to stay off of their feet until game time.
While a shake-up in the schedule certainly does not automatically mean things will go south, it's worth pointing out that the last time the Jayhawks had a long layoff — from Dec. 22 to Jan. 2 — they responded with a flat performance in a 25-point home loss to Texas.
Given the nature of this game and what it means for KU's chances in the Big 12 race, it's highly unlikely that Kansas will be flat to open this one. Both teams should be fired up for the latest chapter in what has become a great rivalry over the past three or four seasons.
Kansas leads the all-time series with Baylor, 33-6, including a 14-3 mark in games played in Waco. KU has won 14 of the last 16 meetings between these two teams.
The Jayhawks enter this one as heavy underdogs, though, with KenPom giving Baylor a nine-point edge (75-66) with a win probability of 80%.
Even Las Vegas sees this one heavily favoring Baylor, with the line opening at BU -10 on Sunday afternoon. It moved to Baylor -9 by Sunday evening.
Probable Starters
No. 9 Kansas
G – Marcus Garrett, 6-5, 195, Sr.
G – Ochai Agbaji, 6-5, 210, Jr.
G – Christian Braun, 6-6, 205, Soph.
G – Jalen Wilson, 6-7, 190, RS-Fr.
F – David McCormack, 6-10, 265, Jr.
No. 2 Baylor
G – Jared Butler, 6-3, 195, Jr.
G – Davion Mitchell, 6-2, 205, Jr.
G – MaCio Teague, 6-4, 195, Sr.
F – Mark Vital, 6-5, 250, Sr.
F – Flo Thamba, 6-10, 245, Jr.