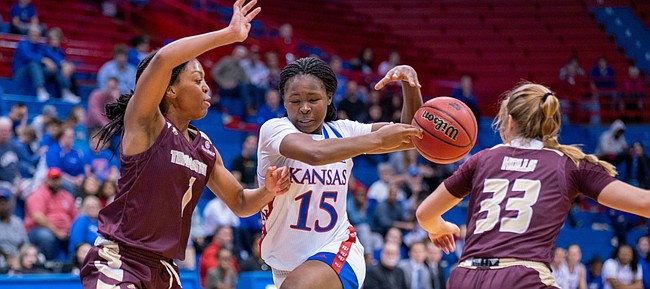 After seeing their first four games in January postponed due to roster issues caused by COVID protocols and injuries, the University of Kansas women's basketball team is finally set to return to action tonight at No. 21 Texas.
Even this matchup with the Longhorns is a makeup game for the Jayhawks' originally scheduled Dec. 17 trip to Austin, Texas, which also was postponed.
KU was supposed to play Wednesday night at Baylor, but when the Bears couldn't meet the Big 12's roster thresholds for competing that game got postponed, too. The Big 12 found an opening for KU and Texas, which had its Tuesday home game versus Oklahoma postponed, as well.
What: Kansas (5-2 overall, 1-0 Big 12) at No. 21 Texas (8-2, 2-1)
When: 7 p.m. Thursday, Longhorn Network
Where: Frank Erwin Center, in Austin, Texas
Quick Note: KU's first Big 12 road game of the season will come following a 16-day break in the schedule tied to the pandemic, protocols and roster problems — issues within the KU program earlier in January forced dates with West Virginia, Iowa State and Oklahoma State to be postponed.
The last time the Jayhawks played, on Dec. 29 versus New Mexico State, they rolled to a 78-59 home win with five players —Holly Kersgieter, Aniya Thomas, Ioanna Chatzileonti, Zakiyah Franklin and Julie Brosseau — scoring in double figures.
They'll need all the scoring they can get in their first game this season against a ranked opponent.
Streaking: The Jayhawks put an end to a massive losing streak in the KU-UT series just last year. Incredibly, the Longhorns beat the Jayhawks 15 times in a row — the longest winning streak in the 38-game series that dates back to 1982 — from 2013 to 2020.
KU finally put an end to UT's run of dominance at Allen Fieldhouse, on Feb. 15, 2020, 82-67. Thomas put up 21 points in that KU victory, while Franklin scored 14.
KU is looking to beat Texas two times in a row for the first time since 2013, when the Jayhawks had won three in a row.
Slumping: KU's 3-point shooting has rarely carried the team thus far in a strange season.
In particular, the Jayhawks were cold from long range in their three most recent games.
In beating a shorthanded Oklahoma team, KU went 5-for-17 on 3-pointers. After that, a 2-for-17 3-point outing doomed the Jayhawks in a loss to North Dakota State. In their most recent game, they were 5-for-16 from long range.
KU has only connected on 30.4% of its 3-pointers this season, but in its three most recent games that percentage dropped to 24% (12-for-50).
Last game's starters
Kansas
G — Aniya Thomas, 5-7, jr.
G — Holly Kersgieter, 5-10, so.
G — Brooklyn Mitchell, 5-6, jr.
F — Tina Stephens, 6-2, sr.
F — Ioanna Chatzileonti, 6-2, fr.
Texas
G — Kyra Lambert, 5-9, gr.
G — Joanne Allen-Taylor, 5-8, jr.
G — Karisma Ortiz, 6-0, so.
F — DeYona Gaston, 6-2, fr.
F/C — Charli Collier, 6-5, jr.