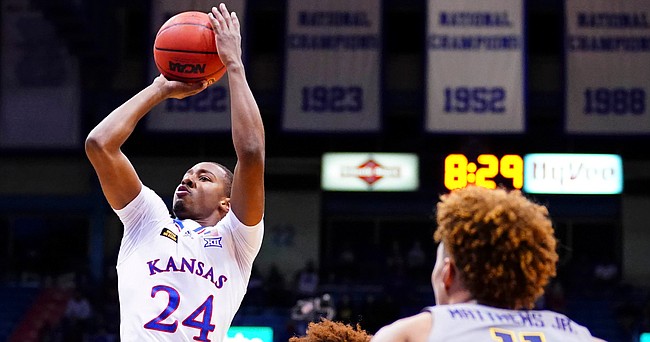 Kansas basketball coach Bill Self on Monday said that freshman guard Bryce Thompson is on track to return to the lineup as originally expected and was "day to day" heading into Tuesday's road game at Oklahoma State.
Thompson, a 6-foot-5 combo guard from Tulsa, Okla., has not played for the Jayhawks since before Christmas, after injuring his back in a hard fall during practice.
Self said Thompson practiced Sunday for the first time since the fall but noted that the freshman's reps were watched closely.
""It was limited," Self said. "But he did practice contact."
Self went on to say that Thompson "may be available" for Tuesday's 7 p.m. game at Oklahoma State on Big 12 Now/ESPN+, but no decision has been made about whether he will play.
"He hadn't practiced since the 28th of December," Self said. "So, yesterday, in a 15-minute contact situation, I don't know (if that's) enough time to give you an idea (about) rhythm and things like that. But I know he's trying to get back as soon as possible."
When Thompson was ruled out of the Texas game on Jan. 2, Self said then that he anticipated the injury keeping him out no more than two weeks and a return this week would keep to that timeline.
"The docs said he'd start improving at a pretty rapid rate in about two weeks and it's been right at two weeks," Self said. "So we think he's day to day."
In nine appearances this season, including one start, Thompson is averaging 5.4 points, 1.2 rebounds and 1.2 assists in 17.5 minutes per game.
Prior to the injury, he had settled in as the Jayhawks' sixth man and was often the first player on KU's bench to check in for whichever of the four starting guards that needed a rest.
Thompson has played some possessions as KU's point guard while he's been out there and also has impressed Self with his defense, confidence and competitiveness in most situations.
Without Thompson, Tristan Enaruna and Tyon Grant-Foster both have been given extra opportunities to impact the game. And the sixth-ranked Jayhawks (10-2 overall, 4-1 Big 12) also have played big more often, with David McCormack and Mitch Lightfoot combining for close to 40 minutes per game in recent weeks.
Whenever Thompson returns, Self said he would like to see more from his second unit.
"I think we've got good depth," he said on Monday. "But I don't think our bench has played anywhere close to like they're capable of playing."