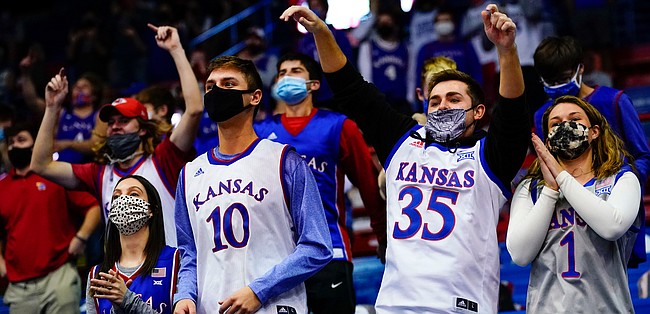 There is something especially meaningful about finding a way to win on an off night in a conference as tough as the Big 12. That was the case for the Kansas men's basketball team during its 63-59 victory over Oklahoma on Saturday at Allen Fieldhouse.
The Jayhawks had a stretch of eight-plus minutes without a made basket in the second half. Their best player, Jalen Wilson, didn't hit his first shot until there was 4:40 left to play in the game.
None of that seemed to matter on this particular day, as No. 6 Kansas (10-2, 4-1 Big 12) outlasted a shorthanded Oklahoma squad (6-4, 2-3 Big 12) on what was really a slog of a performance by both teams.
Senior guard Marcus Garrett made a layup on a follow with 5:40 left in the game, giving KU a 51-49 advantage. It marked the first made basket by the hosts since a successful field goal by senior Mitch Lightfoot at the 14:09 mark in the second half.
Moments later, redshirt freshman Jalen Wilson drilled a 3-pointer from the top of the key for his first successful shot of the afternoon. The Sooners still responded by grabbing a 55-54 advantage with 3:43 left to play.
The Jayhawks found a way to finish it out, however. David McCormack netted a basket with 2:19 left to give KU an advantage. Wilson knocked down another 3-pointer to create some much-needed breathing room down the stretch.
McCormack added a basket for the hosts in the final seconds. He led the team with 17 points on 8-of-14 shooting from the floor. Ochai Agbaji was the only other KU player to finish in double figures, as he ended up with 14 points.
KU now leads the overall series with Oklahoma, 151-68.
Kansas will travel to Oklahoma State on Tuesday.