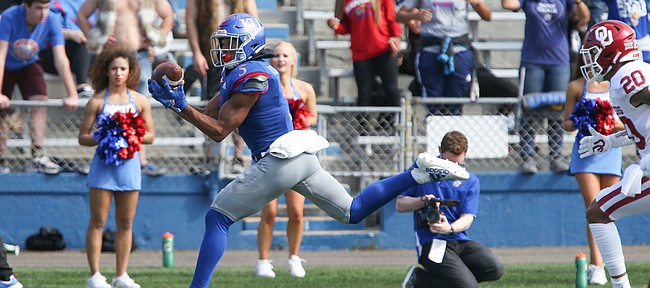 Former Kansas receiver Stephon Robinson Jr., who was one of the breakout performers for the Kansas football program in 2019, will next be catching passes in the Big Ten.
Robinson, one of the many KU seniors from the 2020 roster who opted to enter the transfer portal and play a bonus season elsewhere, announced Friday afternoon that he had committed to Northwestern.
Injury issues cost Robinson almost all of his 2020 season, and the 5-foot-10 wideout from Los Angeles could have returned to KU next year if he wanted to thanks to the NCAA's blanket waiver that provides players an extra year of eligibility. Robinson was one of just two Jayhawks whom head coach Les Miles identified publicly as a player he would like to bring back for 2021; fellow wideout Andrew Parchment was the other. Parchment will be playing next season at Florida State.
Robinson began his KU career as a junior college transfer in the 2018 signing class under former head coach David Beaty. However, he didn't emerge as a big-play threat until Miles and receivers coach Emmett Jones arrived.
In his junior season in 2019, Robinson hauled in 45 receptions for 727 yards and led the Jayhawks with eight receiving touchdowns. But his senior year never got a chance to take off — before having season-ending surgery, he played in just three games and only was able to contribute two receptions for 35 yards. He made his last appearance with Kansas on Oct. 17 at West Virginia.
Robinson is the third senior starter from the 2020 season to find a new home in the Power Five, joining Parchment and cornerback Elijah Jones (Oregon State).
Among the KU players who were with the football program when it resumed activities this past summer, 18 of them have since entered the transfer portal. Twelve were seniors in 2020, and two others were walk-ons.

KU players from 2020 roster who entered the transfer portal
• Andrew Parchment, senior WR (Florida State)
• Elijah Jones, senior CB (Oregon State)
• Stephon Robinson Jr., senior WR (Northwestern)
• Kyle Mayberry, senior CB (Utah State)
• Corione Harris, junior DB
• Davon Ferguson, junior S
• Denzel Feaster, senior LB
• Api Mane, senior OL
• Kyle Thompson, senior P
• Ezra Naylor II, senior WR
• Jack Luavasa, senior TE
• James Sosinski, senior TE
• Jalan Robinson, sophomore OL
• Antione Frazier, senior OL (Northern Iowa)
• Julian Chandler, senior DB
• Clinton Anokwuru, freshman DL (Louisiana)
• Hunter Kaufman, walk-on junior WR
• Lawrence Shadd III, walk-on redshirt freshman WR (Butler C.C)