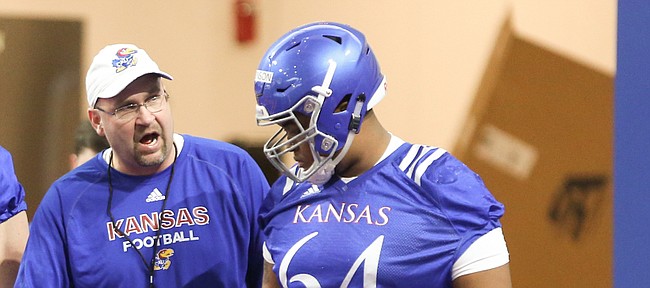 After three years playing for his hometown's college football program, offensive lineman Jalan Robinson, a former standout at Free State High, is eyeing a transfer from the University of Kansas.
Rivals and 247 Sports reported Thursday evening Robinson, a three-star prospect in KU's 2018 signing class, entered his name into the transfer portal.
Listed at 6-foot-4 and 300 pounds, Robinson was a reserve O-lineman for KU throughout 2020, appearing in just two games — against Iowa State and at Oklahoma — during his sophomore season.
A rare non-senior from the Jayhawks to enter the portal in recent weeks, Robinson redshirted during his first year in the program, then did not appear in any games in 2019.
When Robinson signed with the Jayhawks, then led by David Beaty and his staff, he also had received scholarship offers from Nebraska and Mississippi State.
KU had three Free State graduates on its roster in 2020: Robinson, junior inside linebacker Jay Dineen and sophomore walk-on fullback Spencer Roe. Former Lawrence High kicker Cole Brungardt was also on the roster as a walk-on in his final season with the Jayhawks.
Among the KU players who were with the football program when it resumed activities this past summer, 18 of them have since entered the transfer portal. Twelve were seniors in 2020, and two others were walk-ons.
Only two scholarship underclassmen, Robinson and freshman defensive lineman Clinton Anokwuru, have entered the portal.
KU players from 2020 roster who entered the transfer portal
• Andrew Parchment, senior WR (Florida State)
• Elijah Jones, senior CB (Oregon State)
• Stephon Robinson Jr., senior WR
• Kyle Mayberry, senior CB (Utah State)
• Corione Harris, junior DB
• Davon Ferguson, junior S
• Denzel Feaster, senior LB
• Api Mane, senior OL
• Kyle Thompson, senior P
• Ezra Naylor II, senior WR
• Jack Luavasa, senior TE
• James Sosinski, senior TE
• Jalan Robinson, sophomore OL
• Antione Frazier, senior OL (Northern Iowa)
• Julian Chandler, senior DB
• Clinton Anokwuru, freshman DL (Louisiana)
• Hunter Kaufman, walk-on junior WR
• Lawrence Shadd III, walk-on redshirt freshman WR (Butler C.C)