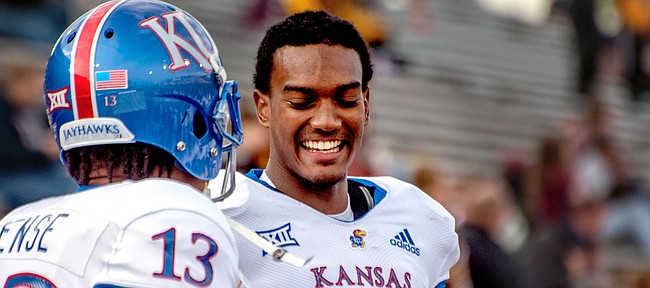 It didn't take former Kansas starting cornerback Elijah Jones long to go in one end of the NCAA's transfer portal and come out on the other.
Jones announced Wednesday, three days after his name appeared in the portal as a graduate transfer, that he has committed to play for Oregon State this coming fall.
Jones, a senior starter at KU in 2020, could have returned for one more go-round with the Jayhawks this year if he so chose, thanks to the NCAA's blanket waiver for fall sports athletes that provides an extra year of eligibility.
At Oregon State, Jones seems likely to replace Nahshon Wright, a starting corner for the Beavers this past season who entered the NFL draft.
A 6-foot-1, 180-pound defensive back from Cape Coral, Fla., Jones made great strides at KU in recent months, in what proved to be his last year with the program, after originally joining the Jayhawks as a junior college transfer in the Class of 2018.
Jones finished his third year in the program with 23 total tackles, three tackles for loss and six pass breakups, while starting in eight games and playing in all nine.
With Jones out of the mix for KU, Karon Prunty and Duece Mayberry, who were both freshmen this past season, and Jacobee Bryant, a Class of 2020 signee who will join the roster this year, currently project as the Jayhawks' top corners.
Among the KU players who were with the football program when it resumed activities this past summer, 17 overall have entered the transfer portal since then. Twelve were seniors in 2020, such as Jones, and two others were walk-ons.
The news of Jones' new home came a day after KU finally landed a player out of the transfer portal, bringing in former Notre Dame backup center Colin Grunhard as a graduate transfer with two years of eligibility remaining.
KU players from 2020 roster who entered the transfer portal
• Andrew Parchment, senior WR (Florida State)
• Elijah Jones, senior CB (Oregon State)
• Stephon Robinson Jr., senior WR
• Kyle Mayberry, senior CB (Utah State)
• Corione Harris, junior DB
• Davon Ferguson, junior S
• Denzel Feaster, senior LB
• Api Mane, senior OL
• Kyle Thompson, senior P
• Ezra Naylor II, senior WR
• Jack Luavasa, senior TE
• James Sosinski, senior TE
• Antione Frazier, senior OL (Northern Iowa)
• Julian Chandler, senior DB
• Clinton Anokwuru, freshman DL (Louisiana)
• Hunter Kaufman, walk-on junior WR
• Lawrence Shadd III, walk-on redshirt freshman WR (Butler C.C.)