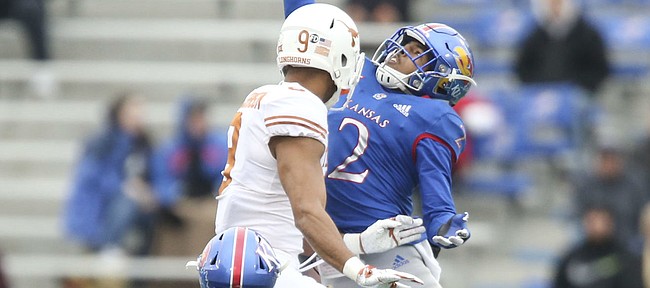 Neither of the star "Louisianimals" from Kansas football's 2018 signing class will play for the Jayhawks as a senior next season. Corione Harris, a junior defensive back at KU in 2020, is now looking for a new program, a couple months after running back Pooka Williams left Kansas and eventually entered the NFL draft.
Rivals and 247 Sports reported on Sunday that Harris entered his name into the NCAA's transfer portal.
Both recruited out of the New Orleans area by then KU running backs coach Tony Hull, Harris and Williams joined the Jayhawks in 2018 with much promise, as both were four-star prospects and among the top-rated high school players in Louisiana at the time.
By 2020, neither were enjoying the type of success many envisioned. While Williams opted out after four games, Harris played sparingly as a reserve, following a lengthy offseason suspension from the program.
Harris, formerly a starting cornerback as a freshman and sophomore, moved to safety in 2020. He appeared in seven games as a backup, made 11 total tackles, and was credited with a forced fumble.
In January of 2020, KU head coach Les Miles suspended Harris from all team activities, following Harris' arrest in Howell County, Mo. Nearly eight months later, Harris' lawyer entered a plea agreement for the football player from New Orleans. Miles lifted the suspension just before the start of this past season, and Harris served a one-game suspension.
Over the course of Harris' three seasons with KU football, he made 70 total tackles, in 28 career games. The 6-foot-1 defensive back made one interception and one tackle for loss.
Once Harris became the latest Jayhawk to enter the transfer portal on Sunday, KU had 16 players who were on the 2020 roster this past summer looking for a new team. The majority of them were seniors this past season, taking advantage of the NCAA's blanket waiver for an extra year of eligibility.
To date, Harris, safety Davon Ferguson, defensive lineman Clinton Anokwuru and walk-on receiver Hunter Kaufman are the only non-seniors from KU football who put their names in the portal.
KU players from 2020 roster who entered the transfer portal
• Andrew Parchment, senior WR (Florida State)
• Elijah Jones, senior CB
• Stephon Robinson Jr., senior WR
• Kyle Mayberry, senior CB (Utah State)
• Corione Harris, junior DB
• Davon Ferguson, junior S
• Denzel Feaster, senior LB
• Api Mane, senior OL
• Kyle Thompson, senior P
• Ezra Naylor II, senior WR
• Jack Luavasa, senior TE
• James Sosinski, senior TE
• Antione Frazier, senior OL (Northern Iowa)
• Julian Chandler, senior DB
• Clinton Anokwuru, freshman DL (Louisiana)
• Hunter Kaufman, walk-on junior WR