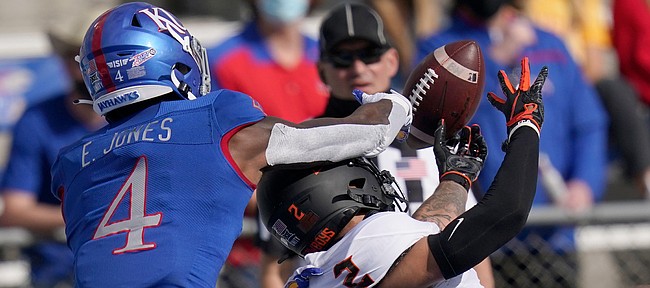 The Kansas football program won't be able to bring back starting cornerback Elijah Jones, who made public on Sunday his plans to enter his name into the NCAA's transfer portal as a graduate transfer.
Jones, like so many other Jayhawks who have sought to play elsewhere in 2021, was a senior this past year, and could've potentially returned to KU for a bonus season thanks to the NCAA's blanket waiver for an extra year of eligibility.
Jones thanked KU head coach Les Miles and defensive backs coach Chevis Jackson in an announcement that he posted to Twitter.
"I would like to thank my teammates for the bond and memories that were made over the past years," Jones also wrote.
Arguably one of the Jayhawks' most important defenders in 2020, Jones started at cornerback in each of the final eight games of the season. The 6-foot-1, 180-pound defensive back from Cape Coral, Fla., made a lot of headway in what proved to be his last year with the program, after redshirting in 2018 and playing only as a backup in seven games in 2019.
Originally a juco transfer from Ellsworth Community College (Iowa), Jones finished his third year in the program with 23 total tackles, three tackles for loss and six pass breakups.
KU could've brought back two starting corners — Karon Prunty started all nine games in 2020 — had Jones opted to stay at KU.
With Jones' departure, Prunty and Duece Mayberry, who were both freshmen this past season, and Jacobee Bryant, a Class of 2020 signee who will join the roster this year, currently project as the Jayhawks' top corners.
Among the 15 KU players who have entered their names into the transfer portal since the football program resumed activities this summer, 12 were seniors in 2020, such as Jones, and another was a walk-on.
In just the past few days, former star KU receiver Andrew Parchment committed to Florida State and former starting cornerback Kyle Mayberry committed to Utah State. Former offensive lineman Antione Frazier, who left the program in the preseason, signed with Northern Iowa in December.
The only underclassman from KU to enter the portal, Class of 2020 signee Clinton Anokwuru, a freshman reserve defensive lineman who didn't appear in any games with the Jayhawks this past year, is transferring to Louisiana.
KU players from 2020 roster who entered the transfer portal
• Andrew Parchment, senior WR (Florida State)
• Elijah Jones, senior CB
• Stephon Robinson Jr., senior WR
• Kyle Mayberry, senior CB (Utah State)
• Davon Ferguson, junior S
• Denzel Feaster, senior LB
• Api Mane, senior OL
• Kyle Thompson, senior P
• Ezra Naylor II, senior WR
• Jack Luavasa, senior TE
• James Sosinski, senior TE
• Antione Frazier, senior OL (Northern Iowa)
• Julian Chandler, senior DB
• Clinton Anokwuru, freshman DL (Louisiana)
• Hunter Kaufman, walk-on junior WR