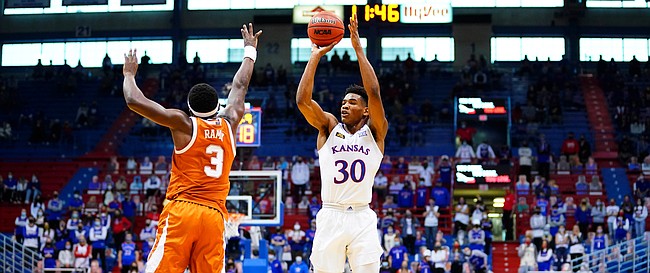 To kick off 2021, the Texas men's basketball team led wire-to-wire for a 84-59 win over Kansas Saturday afternoon in Allen Fieldhouse. It snapped an eight-game win streak for the third-ranked Jayhawks, while the No. 8 Longhorns have now won four in a row.
And that wasn't even the biggest story of the day for Texas, because head football coach Tom Herman was fired just moments before an 11 a.m. tipoff in Lawrence.
On the basketball court, Texas (8-1, 2-0 Big 12) started in front and stayed there for the remainder of the game. The Longhorns' length and athleticism proved to be a problem for the Jayhawks (8-2, 2-1 Big 12) all day.
Texas had five different plays reach double figures in the win, including four starters. Courtney Ramey led the way with 18 points on 7-of-11 shooting from the floor, including a 3-for-5 effort from beyond the arc.
The Jayhawks, who hit 16-pointers in a win over West Virginia last time out, weren't able to get much going offensively. Jalen Wilson led the way with 20 points in the loss, while Ochai Agbaji finished with 11 points.
Document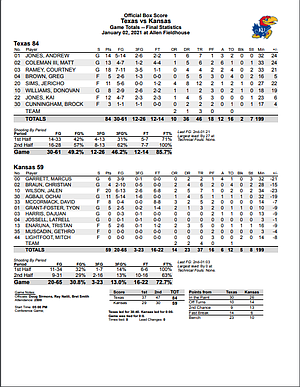 Here's a quick look back at some of the action:
• Offensive highlight: A matchup against Texas seemed like a good one on paper for Jalen Wilson.
That didn't come to fruition in the first half, however, with Wilson scoring just six points within the first 20 minutes. The Longhorns led by eight at the intermission, and never trailed during the first half in Lawrence.
Wilson then became KU's offensive catalyst in the second half. He scored 14 of the team's first 16 points in the second half, and he did so in a variety of ways. Wilson knocked down a pair of 3-pointers, including one from the left wing with a man in his face at the 12:33 mark.
It is no secret that Wilson has emerged as KU's best player, but Saturday showed how much this team does rely on him to get going.
• Defensive highlight: Despite coming off the bench, Mitch Lightfoot was the source for some much-needed rim protection on Saturday.
In just five minutes in the first half, Lightfoot recorded two blocks for the Jayhawks. As a team, KU only had four first-half blocks, and wasn't able to compete with Texas' length and athleticism. The Longhorns had four dunks and three layups in the first half alone, which accounted for half of their 14 made field goals in the first 20 minutes.
It all led to Lightfoot getting the start to begin the second half, taking David McCormack's place at the five position.
• Key stat: The Jayhawks, who averaged nine triples per game entering the weekend, finished 3-for-23 from distance in the loss to the Longhorns.
• Up next: Kansas will travel to TCU at 9 p.m. Tuesday