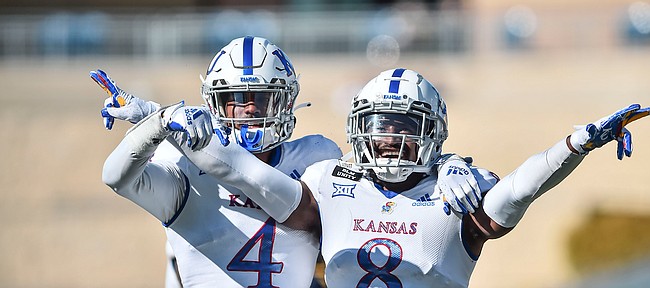 Former Kansas cornerback Kyle Mayberry is headed to the Mountain West for his sixth and final season of college football.
One of the many KU seniors from the 2020 roster to utilize the NCAA's transfer portal and blanket waiver for an extra year of eligibility, Mayberry announced on Twitter Saturday night he has committed to play at Utah State next season.
As a fifth-year senior with the Jayhawks this past year, Mayberry finished with 25 total tackles, two pass breakups and a quarterback hurry in his eight appearances, mostly as a key backup.
A 5-foot-10, 180-pound defensive back from Tulsa, Okla., Mayberry signed with KU in its 2016 recruiting class, under then head coach David Beaty. Mayberry played each of his first two years in the program before redshirting in 2018, and then became a regular in the secondary the past couple of years, after Les Miles took over.
"It's been a lot of ups and downs," Mayberry stated in December, when announcing his decision to leave KU, instead of returning for a bonus senior season. "But no matter what I am appreciative of the university."
Utah State went 1-5 in 2020. The Aggies recently hired Blake Anderson, formerly of Arkansas State, as their new head coach.
Mayberry's younger brother, Duece Mayberry, just completed his first season with the Jayhawks, appearing in nine games as a reserve cornerback.
Kyle Mayberry's commitment came two days after one of his former fellow KU seniors, receiver Andrew Parchment, committed to Florida State.
Since the football program resumed activities this past summer, 14 KU players who were on the 2020 roster have entered the portal. Eleven were seniors in 2020, and another was a walk-on.