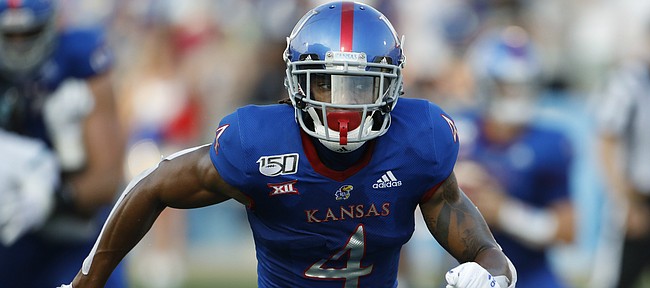 Former Kansas receiver Andrew Parchment rang in the new year by finding his new college football home.
Parchment, three weeks after entering his name into the NCAA transfer portal, announced on his social media accounts on New Year's Eve that he's headed to Florida State.
"I'm coming home," the wideout from Fort Lauderdale, Fla., wrote on his posts, "and I'm ready to finish the mission."
Parchment could have potentially returned to KU for a bonus senior season, thanks to the NCAA's blanket waiver for an extra year of eligibility. In fact, during this past season, head coach Les Miles stated publicly he hoped to bring back both Parchment and receiver Stephon Robinson Jr. Ultimately, both entered the transfer portal.
"For me, FSU has been a dream school of mine — to play on the big stage — since I was a little kid," Parchment told 247 Sports. "Even though I grew up a Miami fan, FSU's history of playmakers, it was a dream. Once I entered the portal, the coaches hit me up. And it was a match made in heaven."
A 6-foot-2 outside receiver who enjoyed a productive debut season with the Jayhawks in 2019, Parchment landed on the 2020 preseason All-Big 12 first team. But the KU offense faltered throughout what would become a lackluster season.
After emerging as KU's top target with 65 receptions for 831 yards and seven touchdowns in 12 games in 2019, his final year with the Jayhawks wrapped up with Parchment posting 24 catches for 197 yards with two touchdowns in eight games.
In 2019, Parchment delivered four 100-yard receiving games. There were no such outings to be found in 2020, when he finished with 27 or fewer receiving yards in six of his eight starts for the struggling KU offense.
Mayberry eyeing 6 programs
Another senior from KU football's 2020 roster who entered the portal, cornerback Kyle Mayberry, announced on New Year's Eve that he's narrowed down his potential landing spots.
Mayberry tweeted out his list of top six schools where he would like to transfer: Western Kentucky, Connecticut, Utah State, Texas Tech, Oregon State and Liberty.
As a fifth-year senior at KU, Mayberry finished the 2020 season with 25 total tackles, two pass breakups and a quarterback hurry in his eight appearances, mostly as a reserve.
Since the football program resumed activities this past summer, 14 KU players who were on the 2020 roster have entered the portal. Eleven were seniors in 2020, and another was a walk-on.