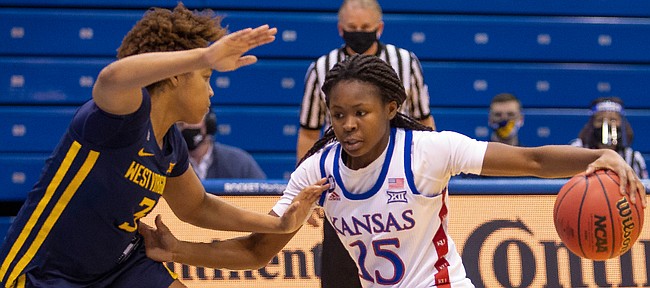 A fourth quarter comeback had the Kansas women's basketball team within striking distance of an upset against No. 18 West Virginia Saturday afternoon at Allen Fieldhouse.
But even on a day when the Jayhawks held Mountaineers star guard Kysre Gondrezick to 6-for-20 shooting from the field, her late game 3-pointer helped WVU escape with a 72-68 win.
KU's chances of knocking off the Mountaineers all but vanished when Gondrezick finished a one-on-one possession late in the shot clock by nailing a high degree of difficulty 3-pointer with 16 seconds remaining. The clutch shot from outside — a rarity on this day, when WVU only went 2-for-15 from long distance — gave WVU a five-point lead.
"I think you really have to credit Gondrezick," KU coach Brandon Schneider said during his postgame video press conference. "You know, 40 seconds to play, they've got a two-point lead, there's a 10-second difference between shot clock and game clock and she makes a stepback contested 3 to really ice the game. I thought we guarded that as well as we could have and sometimes you have to credit the player for making an outstanding shot."
Following the big basket by Gondrezick (game-high 25 points), KU freshman forward Ioanna Chatzileonti spun in the paint and scored to keep KU alive, at 71-68. But Gondrezick made one of her two free throws with eight seconds left and WVU came away with a steal by Esmery Martinez in the final seconds, as the Jayhawks, down four at the time, didn't get off a shot.
WVU's Jayla Hemmingway delivered a crossover and drive to the hoop with 50 seconds to play to give her team a crucial basket and a four-point cushion. But KU sophomore Zakiyah Franklin (18 points) immediately answered, with a drive and reverse layup to keep the pressure on the Mountaineers and make it a two-point game again.
KU (7-15 overall, 3-13 Big 12) was down only four entering the final two minutes, after a mental miscue by WVU led to a shot clock violation on the Mountaineers. Out of a timeout, KU sophomore Holly Kersgieter came through with a big-time steal on a WVU inbound pass. Kersgieter (12 points) hit two free throws after the takeaway to make it a 66-64 WVU lead with 1:27 to play.
Martinez destroyed KU on the glass, pulling down 24 total rebounds. Nine of those came on offense, and WVU (18-4, 12-4) finished with 20 offensive boards and 19 second-chance points.
KU trailed by 12 with three and a half minutes left in the third before closing the quarter with a flurry. Aniya Thomas ignited the spurt, first with a layup, then with a 3-pointer. Kersgieter followed with a layup as KU pushed the ball off a defensive stop. A Thomas free throw and a Franklin drive for a bucket in the paint in the final seconds of the period allowed KU to close the third on a 10-2 run, slicing WVU's lead to four entering the fourth.
The Jayhawks were down 39-29 at halftime and by as many as 15 in the third, before Thomas incited a rally. The 5-foot-7 junior guard from Duncanville, Texas, scored 12 of her team-high 19 points in the third as the Jayhawks made a strong response to WVU's double-digit lead.
Schneider praised Thomas afterward for her aggressiveness and mentality.
"I thought she was expending a lot of energy on the defensive end with the Gondrezick matchup, who's one of the premier scoring guards in our league, and Aniya was great," the KU coach said. "(Thomas) still competed and attacked the rim. She made some big 3's and got out in transition."
A second quarter in which KU shot 3-for-13 and turned the ball over seven times proved costly, as WVU built a double-digit lead before halftime.
Senior Day
It wasn't her last time playing in Allen Fieldhouse, but graduate transfer Julie Brosseau enjoyed her Senior Day on Saturday. Brosseau started for the special occasion, replacing Franklin in the starting five.
The Quebec native knocked down a 3-pointer in the opening minutes, giving KU an early 8-5 lead. And Brosseau scored another basket to put KU up, 12-11, in the first.
Brosseau finished with five points on 2-for-6 shooting and played 14 minutes.
"I thought she had a good floor game," Schneider said. "She made good decisions. Julie's a player who can play multiple positions for us and has a really high IQ."
The Jayhawks still have one more regular season home game left next week, a makeup date for a postponed January matchup with Baylor.
KU's next game will come on the road, though, as the Jayhawks play at Iowa State on Wednesday.
More like this story on KUsports.com