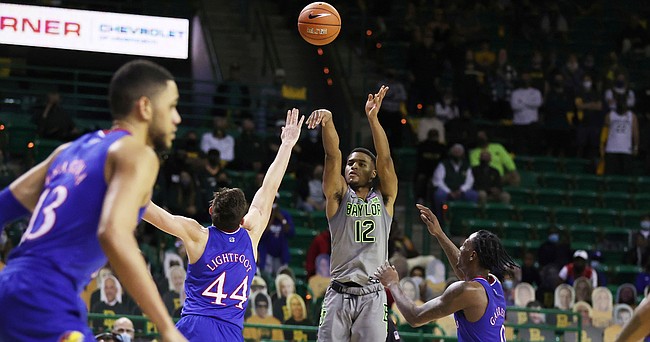 No. 17 Kansas Jayhawks (17-8 overall, 11-6 Big 12) vs. No. 2 Baylor Bears (18-0 overall, 10-0 Big 12)
Time: 7 p.m., Saturday, Feb. 27, 2021
Location: Allen Fieldhouse, Lawrence, Kansas
TV: ESPN | Radio: IMG Jayhawk Radio Network
Log on to KUsports.com for our live game blog coverage and follow the KUsports.com staff on Twitter: @KUSports @mctait @bentonasmith & @SJacksonLJW
Keys for Kansas
1. Embrace the opportunity
As was the case earlier in the week at Texas, the Jayhawks have an opportunity to make up for what went down as one or their least impressive outings of the season in this one.
Although Baylor won by just eight on the scoreboard in the first meeting between these two Big 12 powers in mid-January, Kansas coach Bill Self was quick to point out on Friday that the Jayhawks never really put any true game pressure on the Bears.
After falling behind big early and trailing by 13 points at the half, Kansas cut the lead to five a couple of times in the second half but there weren't many moments where the outcome looked to be in doubt.
So redemption is certainly one angle that could play to KU's advantage in the rematch. But so, too, is the opportunity that exists in other areas, as well.
The Jayhawks are still playing for seeding in the NCAA Tournament. And with a strong finish, they could bump themselves up a line or two.
It's also Senior Night and Kansas has not lost a Senior Night game since 1983. Like so many other lengthy streaks just like it, that run is a great source of pride for the Kansas players and coaches and the fan base.
Although Mitch Lightfoot and Chris Teahan have announced their plans to return, it could be the final Big 12 game at Allen Fieldhouse for Marcus Garrett, who is still pondering what to do with his future. Garrett plans to give a speech. Self said it likely would be short and sweet. And the idea of sending a player like Garrett out on a high note with one more memorable win means something to this team.
More than anything, though, this game represents the Jayhawks' next golden opportunity to prove how far they have come since that January slump that temporarily derailed the season.
"We know what we're playing for," Garrett said Friday. "We know we're trying to have a long season here, so we know we have to keep going."
2. David McCormack sets the tone
This concept is about more than McCormack matching Baylor's intensity and physicality and getting off to a good start.
Obviously, the Kansas junior can do his team a big service by doing both of those things. But the more important aspect of him setting the tone has to do with how he plays and not necessarily the numbers or immediate results.
"I think David's just got to slow down and play," Self said, echoing words that he and other Jayhawks have uttered all season. "Be good at this and be good at that, make a quick move and if it's not there it's no big deal."
McCormack, who enters this one averaging 13 points and 6.1 rebounds per game while shooting 50% from the floor and 80% from the free throw line, had shown improvement in that area throughout the past several weeks.
But a rough outing — triggered by a sped-up start — at Texas on Tuesday night which Self called "not one of his better games," brought back visions of how McCormack opened the season.
In the Jan. 18 game at Baylor, the 6-foot-10, 245-pound junior scored just six points and grabbed two rebounds on 3-of-6 shooting in 20 minutes. That was one of nine games this season in which McCormack has finished with four rebounds or fewer. Kansas is 5-4 in those nine games.
"A big key for us rebounding the ball is David McCormack doing that on the defensive end," Self said Friday.
Self said McCormack's desire to do well sometimes pushes him to the point where he's trying too hard and therefore leaves such little room for adjustments.
"It'd be kind of like golfer trying to make a perfect swing when he's trying as hard as he can," Self explained. "I think David tries so hard sometimes that he's not as effective because he's over-trying. (He just needs to) slow down and and kind of let the game come to (him)."
3. Get to the free throw line (and make 'em when you're there)
It's a weird stat and it could be a little flukey, but it also points to Baylor's ability to play lockdown defense without fouling.
Beyond that, the importance here for a Kansas offense that occasionally struggles to score, could be huge.
Through 25 games, the Jayhawks have been to the free throw line 58 more times than their opponents (and average of just over two more trips per game) but are shooting a lower percentage (71.3% versus 73.2%).
That may seem negligible, but that's where Baylor comes into the equation. Opponents are shooting just 65.8% from the free throw line against the Bears this season, leaving a potential 7-8% gap between what Kansas is allowing and what Baylor is allowing.
That doesn't have that big of an impact if teams don't get to the line much. But if they do, it could be significant.
Neither team had much of an advantage in the first meeting, with Baylor hitting 12 of 13 at the free throw line and Kansas making nine of 12.
Getting to the free throw line is important, but the Jayhawks also have to make them when they get there. Kansas is 8-5 this season when getting to the free throw line 18 or more times in a game, and the Jayhawks are averaging right at 18 trips to the charity stripe in their eight losses.
In all but one of those eight losses, KU shot a worse percentage at the line than its opponent. That includes Tuesday's three-point overtime loss at Texas, where KU shot 57% (12-of-21) and Texas hit 77% (24-of-31).
Self said last week that he wants McCormack to get to the free throw line more, and this seems like it would be a great game for him to focus on trying to do just that.
Marquee Matchup
Kansas 3-point defense vs. Jared Butler's 3-point stroke
Baylor guard Jared Butler is a good enough player to keep teams from being able to key too much on one thing to slow him down.
But when you're the Kansas Jayhawks and your most recent memory of Butler was him going 7-of-9 from 3-point range during a 30-point outburst, you might want to start there the next time you see him.
Garrett figures to draw the first crack at checking Butler in this one and Self said keeping Garrett on him as much as possible would be key.
"Marcus actually did a nice job of guarding him," Self said Friday. "We switch so much and (that) got (Butler) on some different guys late in the clock and that's when he delivered. So we've got to do a better job of Marcus staying connected a little bit better with him. I do think that how we defend late in the (shot) clock will be very important."
Asked for his insight into how to slow Butler down, Garrett, who has passed along high praise for the Baylor guard and likely All-American throughout his career, said he planned to lean on a basic tenet of good defense.
"Just try to keep him in front of you," Garrett said. "You know how crafty he is with the ball and you know he can kind of get anywhere he wants."
With that goal in mind, Garrett said getting help from his teammates would be welcomed with open arms.
"Just try to contain him and make sure he sees a lot of people on defense," Garrett said. "That's the biggest thing."
Self pointed out that Baylor's attack features plenty of other weapons that can hurt teams if they key too much on Butler. And Garrett said the free-and-easy flow that players like MaCio Teague and Davion Mitchell found while playing with Butler hurt the Jayhawks as much as anything in Round 1.
"We let them get comfortable early on in that game," Garrett said. "And it was kind of hard to contain them down the stretch."
Jayhawk Pulse
Yes, the Jayhawks still have one game left thanks to the addition of a final tune-up next week at home against UTEP, but there's no question that this will be their last regular-season opportunity to pick up a statement victory.
KU has played a plenty tough schedule and their resume has them looking good for a top four or five seed when the bracket is released on March 14. It didn't always look that way, but the Jayhawks' play during the past couple of weeks — the five-game winning streak and tough battle at Texas — has solidified their spot.
"We're in the NCAA Tournament," Self said after Tuesday's loss at Texas. "I'm confident about that. … And all we've got to do is keep working and grinding and put ourselves in a position to beat Baylor on Saturday."
While a victory might help KU's seeding in the NCAA Tournament — particularly if the Jayhawks fare well at the Big 12 tournament in Kansas City, Mo., in two weeks — it seems like this team is much more concerned about proving something to itself than worrying about the ramifications of a win or a loss.
To that end, it seems safe to assume that this will be a dog fight. And to those who might not know what the standings or seedings look like, it's possible this could have the appearance of a game between two teams tied at the top of the Big 12 standings playing a winner-take-all contest.
It's not that, of course. Baylor is your 2020-21 Big 12 regular season champion. But that's the approach the Jayhawks are taking with this game and all of the rest that remain on their schedule.
KU has won 15 of the last 18 matchups with the Bears, but the Jayhawks enter this one looking to stave off a couple of potential BU streaks.
For starters, Baylor won the last meeting inside Allen Fieldhouse, and Kansas is looking to keep that from becoming two road wins in a row for Baylor. Beyond that, the Bears are vying to become just the third team in Self's 18 seasons at Kansas to sweep a regular season series with the Jayhawks. Oklahoma State did it a few years back and Texas completed the sweep this season with the win the other night.
Kansas leads the all-time series against Baylor 33-7, but Baylor has won four of the last seven meetings.
KenPom.com lists Baylor as a six-point favorite and gives Kansas a win probability of 28%. Oddsmakers in Las Vegas see it about the same, with the Bears coming in as a rare road favorite in Allen Fieldhouse at -5 as of Friday evening.
Probable Starters
No. 17 Kansas
G – Marcus Garrett, 6-5, 195, Sr.
G – Ochai Agbaji, 6-5, 210, Jr.
G – Christian Braun, 6-6, 205, Soph.
G – Jalen Wilson, 6-7, 190, RS-Fr.
F – David McCormack, 6-10, 265, Jr.
No. 2 Baylor
G – Jared Butler, 6-3, 195, Jr.
G – Davion Mitchell, 6-2, 205, Jr.
G – MaCio Teague, 6-4, 195, Sr.
F – Mark Vital, 6-5, 250, Sr.
F – Flo Thamba, 6-10, 245, Jr.