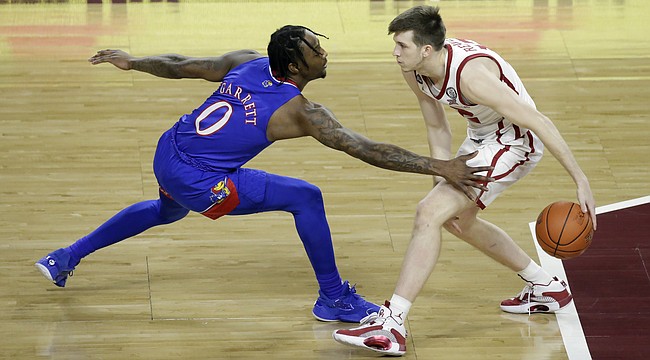 The reigning Naismith Defensive Player of the Year is in the running to win the award again in 2021.
Kansas senior Marcus Garrett on Thursday was named one of 10 finalists for this year's award, given annually to the best defender in college basketball by the Atlanta Tip-Off Club.
Garrett won the honor at the conclusion of the 2019-20 season after establishing himself as one of the best man-to-man defenders in the game who also could guard all five positions on the floor.
He also was named the ESPN and Big 12 Defensive Player of the Year and earned a spot on the Big 12's all-defensive team.
Through 25 games for the 17th-ranked Jayhawks so far this season, Garrett has been asked to handle a similar role while spending even more time than before defending the KU opponent's point guard.
Garrett currently ranks fifth in the Big 12 in steals at 1.5 per game, and is seventh in assist-to-turnover ration (1.73) and 11th in assists per game (3.7).
For the season, the Dallas native also is averaging 10 points and 4.4 rebounds per game.
Garrett currently ranks 14th on KU's career steals list at 171 and is 10 steals shy of breaking into the top 10. He also has 333 career assists and is nine shy from cracking KU's top 20 in that department.
Garrett also is 96 points shy of joining the exclusive 1,000 point club.
He is joined on the list of Naismith semifinalists by two other players who call the Big 12 Conference home — Baylor teammates Davion Mitchell and Mark Vital. Vital was a finalist for the honor in 2020.
Joining that trio as semifinalists in 2021 are: Charles Bassey (Western Kentucky), Kihei Clark (Virginia), Jacob Gilyard (Richmond), Herb Jones (Alabama), Evan Mobley (USC), Yves Pons (Tennessee) and Neemias Queta (Utah State).
The list will be trimmed down to four finalists on March 12 and the winner, chosen by a national panel of media members, will be announced during Final Four weekend in early April.
Earlier this week, Garrett was also named a finalist for the Senior CLASS Award.