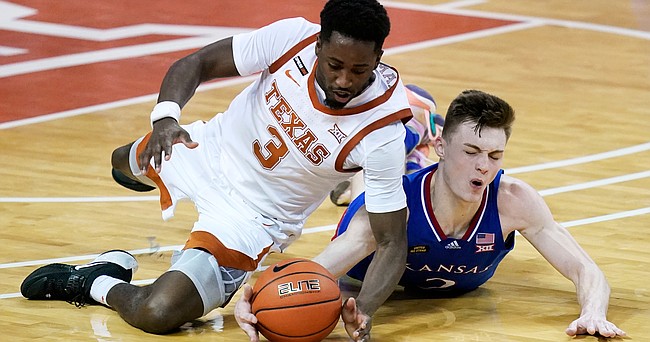 As a college basketball coach who has won a whole heck of lot more games than he's lost during his coaching career, Kansas' Bill Self lives in the village made up of people who hate to lose.
But Self has been around long enough to know that sometimes it's when you win and how you win that matters as much as if you win. It was that perspective that kept him from leaving Austin, Texas, on Tuesday night devastated by his team's 75-72 overtime loss to No. 14 Texas.
"This game didn't mean anything from a winning the league standpoint, and who gives a crap about the Big 12 seedings," Self said following Tuesday's loss. "Would I have loved to finish second our league? Yeah. I would've. And had we won that game we (would've) put ourselves in a position to finish second in our league. But we didn't. … So this this is not anything that should alarm us or rattle us at all."
In fact, Self believes it's just the opposite.
Proud of the way his team fought and competed, and pleased by the fact that the Jayhawks put themselves in position to beat a team that had whipped them by 25 points just seven weeks ago, Self left Austin with a sunnier disposition than many might have expected.
"The emphasis I want to put on it is that we got better today," Self said. "Even though we didn't finish, we got better. And we should get confidence from that."
Confidence is something the Jayhawks have had plenty of during the past few weeks. After stubbing their toe with some ugly basketball in January, the Jayhawks rebounded and put together a five-game winning streak that was bookended by wins against ranked teams.
A win on Tuesday would have only added to that and further validated the turnaround the Jayhawks have put together in recent weeks.
But just because things didn't go that way, and just because the Longhorns made one or two more plays than the Jayhawks over the course of 45 hard-fought minutes does not mean Kansas believes it's all going to come crashing down again.
In fact, this version of these Jayhawks believes that Tuesday's loss was merely a small blip rather than a major road block.
"Yeah, I believe that," said junior guard Ochai Agbaji when asked if he thought this team could maintain its momentum and confidence despite the setback. "We've just got to focus on next game and get better before that game."
Added sophomore Christian Braun when asked what kind of response he expected to see from his team after its first loss in 17 days: "I would say everybody's going to be positive. We've got another opportunity on Saturday to face a good team and to get back on a winning streak, so I think everybody's going to be positive."
The fact that the next game just so happens to be the Big 12 regular season finale against an unbeaten Baylor team that is ranked No. 2 in the nation only strengthens the Jayhawks' desire to leave the disappointment of Tuesday's loss in Texas.
"Absolutely they will," Self said. "If young kids can't recover in 24 hours to get ready to play the No. 2 team in the country then there's something seriously wrong with our society or our team or whatever. This is easy. We're not going to be thinking about Texas after (Wednesday). Come Thursday, it's focused on Baylor."
The Jayhawks (17-8 overall, 11-6 Big 12) will be off on Wednesday and will get back to practice and begin preparing for their rematch with Baylor on Thursday.
In addition to hoping to keep their unbeaten season alive, the Bears (18-0, 10-0) will be vying to become just the third team in Self's 18 seasons — and the second this season — to sweep a home-and-home regular season series with Kansas.
Tipoff on Saturday is set for 7 p.m. on ESPN at Allen Fieldhouse.