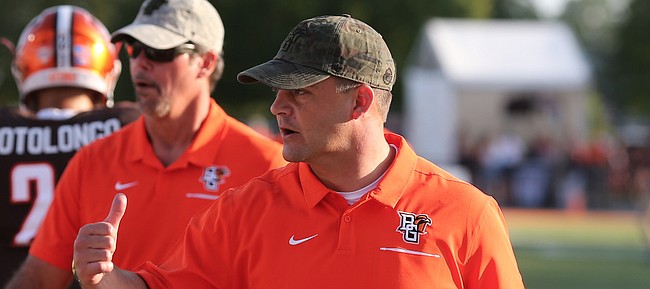 Kansas football will have a new outside linebackers coach and special teams coordinator in 2021, and former Bowling Green assistant Jake Schoonover will handle both of those roles.
Head coach Les Miles announced Monday the hiring of Schoonover, who replaced Chidera Uzo-Diribe as a defensive assistant, with the former KU OLBs coach moving on. ESPN reported SMU is hiring Uzo-Diribe to coach its defensive line.
Miles said Schoonover also will become the special teams coordinator for KU, with Jonathan Wallace, who handled those responsibilities in 2020, now solely working as the running backs coach.
"(Schoonover) is a hard-working coach with an impressive background," Miles stated in a release about the former Bowling Green safeties coach and special teams coordinator. "He has extensive experience with linebackers and special teams, making him a strong fit with our staff. He has a proven track record of coordinating good special teams units and developing defensive players. He also has premium experience recruiting Kansas, Missouri and this entire region."
Schoonover played at Missouri Western State, and graduated from there in 2008, following a college career in which he started 30 games as a linebacker and safety and served as a team captain as a senior.
By joining Miles' staff at KU, Schoonover will coach at the Power Five level for the first time. He worked the past three years at Bowling Green, hired initially as the linebackers coach, before overseeing the Falcons' special teams the past two years.
Due to the pandemic, Bowling Green only played five games this past fall, during which kick returner Bryson Denley averaged 27.5 yards per return, punt returner Jake Rogers averaged 5.3 yards on fielded punts and kicker Nate Needham went 5-for-7 on field goals and 6-for-6 on PATs.
The Falcons gave up 28.9 yards per kickoff return and surrendered one touchdown. They also gave up a TD on a punt, with Akron blocking a BGSU punt attempt and recovering it in the end zone.
In 2019, Bowling Green's special teams unit blocked both a punt and a field goal and forced two muffed kicks in the same game, a 20-7 win over Toledo.
Before working in the MAC at BGSU, Schoonover spent seven seasons at the FCS level, at Illinois State. The final five seasons there, he coordinated ISU's special teams.
He also worked as the defensive backs coach at Illinois Wesleyan in 2010. Prior to that, Schoonover served as a graduate assistant at Illinois State and a defensive assistant at Missouri Western State.
Schoonover played two seasons for an arena league team called the Peoria Pirates as a linebacker and wide receiver before entering the coaching ranks.