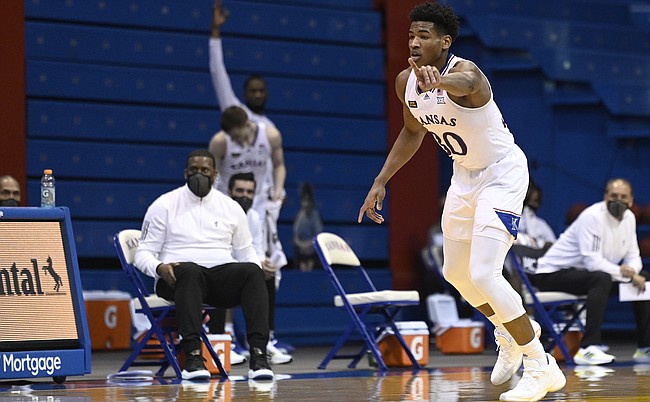 For years, Chris Beard's Texas Tech teams have been known as a nightmare matchup for opposing offenses because of their ability to stifle shooters and force turnovers.
On Saturday, during a 67-61 Kansas victory at Allen Fieldhouse, the Jayhawks got the better of Texas Tech in one of those areas, by committing just six turnovers in 40 minutes.
That was 10 fewer than Kansas committed in a one-point win in Lubbock, Texas, back in December. And, according to Kansas coach Bill Self, it was the result of his players focusing on what they needed to do as well as at any time this season.
"We took good care of the ball," said Self of his team's six turnovers, which tied for a season low. "I think the guys knew that they would try to pressure us (and) they turned us up in the second half there for a stretch."
But even that added urgency by Tech's defense, as it tried to claw its way back into the game, forced just three turnovers in the final 20 minutes.
Ever the coach who looks at things first with a critical eye, Self pointed out that his team only turned Texas Tech over nine times in Saturday's victory.
But that did not stop him from appreciating the role KU's ball security played in its biggest victory of 2021.
"In a game like that, where every possession is magnified, you're going to have to take care of the basketball, and we did a much better job tonight (than at their place)," Self said.
Just like Kobe
After letting the Red Raiders hang around and cut the lead to as few as four (26-22), KU matched its biggest lead of the first half on a 3-pointer by Bryce Thompson with 1:01 to play in the half.
Thompson, who's a huge Kobe Bryant fan and wears No. 24 to honor the late Los Angeles Lakers legend, buried a triple from the top of the key and then did a vintage Bryant backpedal to get back on defense.
On KU's next possession, Thompson attacked the rim and missed twice in the paint, the second coming after he got his own rebound with 19 seconds to play.
That allowed Texas Tech to take the last shot of the half and Red Raiders leading scorer Mac McClung made it count, burying a 3-pointer of his own inside the final few seconds of the half to cut the Kansas lead to 31-25 at the break.
"Bryce and 'Juan (redshirt freshman Dajuan Harris) were good off the bench," said Self of the two reserve guards who combined for five points and five assists in 30 minutes. "We did a lot of good things."
So close, yet so far
Kansas guard Jalen Wilson's 11 points and 11 rebounds gave the redshirt freshman his fifth double-double in the last six games.
Had he recorded just one more rebound in KU's victory over Kansas State earlier in the week, Wilson would be tied with Thomas Robinson (2011) for the second most consecutive double-doubles in KU history and just one off of tying for first with Drew Gooden and Raef LaFrentz.
As it stands, Wilson's eight total double-doubles this season move him into a tie for second place on the freshman list in the Self era (Joel Embiid, 2013-14) and put him five off Josh Jackson's mark of 13 during the 2016-17 season.
Wilson has now led the Jayhawks in rebounding in six consecutive games. He also has recorded 10 or more rebounds in nine of KU's 24 games this season.
"Getting rebounds, feeling the ball and to get the ball in my hands and just get going is definitely something I like to do," Wilson said after Saturday's win.
Final-week revenge tour?
Saturday's victory put Kansas in a good mood heading into what figures to be their most challenging week of the regular season.
Kansas closes the season with a Tuesday game in Austin, Texas, against the 12th-ranked Longhorns and at home against 2nd-ranked Baylor next Saturday.
In order to keep their winning streak alive or have success in either game, Self said the Jayhawks would have to play even better than they did against Texas Tech. But they are eager for the opportunity.
"There's some things that we have to certainly shore up and tighten up, but I think we're a better basketball team (than we were several weeks ago)," Self said. "We're not close to being where we want to be, but we have two opportunities next week to gain on that, and are certainly looking forward to playing two teams that cleaned our clock the first time."
This and that...
Saturday's victory moved KU to 17-7 overall and 11-5 in Big 12 play, giving the Jayhawks at least 11 wins in conference play for the 27th consecutive season... KU is now 6-5 this season against ranked opponents and has won four consecutive games over Texas Tech... KU leads the all-time series with the Red Raiders, 39-6, including a mark of 20-1 inside Allen Fieldhouse... Kansas is now 11-1 at home this season and 813-115 all-time in Allen Fieldhouse... The last time Kansas won wire-to-wire against a ranked opponent came in December 2019 against Colorado.