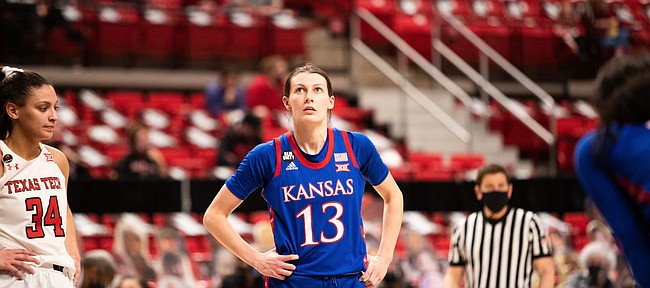 A controversial ending at Texas Tech on Saturday sent the Kansas women's basketball team back home with a 99-98 overtime loss.
The Jayhawks had a chance to go ahead in the final seconds of OT, in Lubbock, Texas. But as KU sophomore Holly Kersgieter (29 points, 16 rebounds) found a driving lane toward the basket, her defender, Bryn Gerlich, reached across to try and swipe the ball away. The officials called a held ball. With the possession arrow pointing the Red Raiders' direction, it went down in the scorebook as a turnover for KU and a Tech steal.
KU coach Brandon Schneider didn't see it that way.
"I thought she got fouled," Schneider said during his postgame press conference of the decisive play.
Replays of the drive shown on ESPN+ revealed Gerlich grabbing Kersgieter's right elbow as she gathered for the potential go-ahead layup.
What's more, Schneider said he thought Zakiyah Franklin (20 points), who missed a would-be game winner in the final seconds of the fourth, got fouled at the end of regulation.
KU's strong road performance through the first 40 minutes hit a lull early in the extra period, as Tech scored the opening 10 points of OT.
The Jayhawks trailed, 99-89, before Kersgieter hit a 3-pointer 2:17 into overtime for their first points since the final minute of the fourth quarter.
Schneider said the Jayhawks' "serious foul trouble" led to the slow start in OT.
"You're playing with lineups out there that haven't played together and people playing out of position," the coach said.
Three Jayhawks fouled out during the Big 12 battle: Chandler Prater, Katrine Jessen and Ioanna Chatzileonti.
However, the Jayhawks surged right back, going on their own 9-0 run. Franklin scored consecutive layups to cut Tech's lead to one in the final minute of OT.
Though KU fell to 7-13 overall and 3-11 in the Big 12 following the defeat, which featured 14 ties and 19 lead changes in regulation, Schneider said what he liked most about the Jayhawks on Saturday was their resiliency.
"They continued to fight, regardless of how dejected they got at times by the whistle. And even in overtime," Schneider said, "to come back and have a final possession to win the game, I just couldn't be prouder of them."
The second OT game for KU in Big 12 play this season (the Jayhawks also lost at TCU on Jan. 17), it was tied at 89 after four quarters. Aniya Thomas scored 10 of her 17 in the fourth.
Vivian Gray, who exploded for 38 points for Tech (10-12, 5-11), scored five points in OT.
The Jayhawks return to Allen Fieldhouse to face Texas on Wednesday.
Stephens opts out
After KU forward senior Tina Stephens missed her second game in a row, Schneider revealed during his postgame session with the media that Stephens officially decided to opt out of the rest of the season on Friday.
He wasn't yet sure whether Stephens will return for the 2021-22 season, by using the NCAA's blanket waiver for an extra year of eligibility.
"Those are conversations that we will have to have after the season," Schneider said.
Stephens averaged 10.9 points and 5.8 rebounds in 23.8 minutes a game this season. She has started in 14 games and played in 17.