Thursday, February 18, 2021
Pending might be the best way to describe the Kansas football program's current quarterback situation, leading up to the start of spring practices in late March.
Now that the QB group has a new position coach — Mike DeBord, Les Miles' latest offensive coordinator — the starting job for 2021 could end up going to any number of the contenders, depending on how everything plays out.
After starting in six of KU's nine games in 2020, Jalon Daniels would appear to remain the favorite. But with Miles Kendrick back and freshman QBs Conrad Hawley and Ben Easters already on campus and able to train and practice this semester, DeBord and Miles will have choices.
When asked during his introductory press conference in early February about his expectations for the QB spot, which lacked a definitive returning starter after both Daniels and Kendrick encountered issues in KU's struggling offense this past season, DeBord indicated no one should be making any assumptions.
"I'm not going to speak for Les, but I'm sure just knowing Les, every position is up for competition," DeBord replied, when asked about the starting QB job.
"You compete to get better. You compete to be the first string guy. I wouldn't see that any different at any position," he added. "I don't care if you're a three-year starter, or a two-year starter or what, you've got to compete to win your job."
As a true freshman, Daniels ended up leading KU in completions (76), pass attempts (152) and passing yards (718). But he didn't solidify himself as the clearcut returning starting QB.
While he did start six times for the 0-9 Jayhawks, Daniels got hurt early in his second career start against Oklahoma State, and was replaced by Kendrick midway through the TCU game in December. So those six starts equate to roughly four and a half games.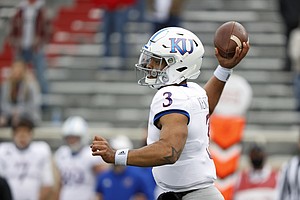 Kendrick overtook Daniels as the starter for what turned out to be KU's finale at Texas Tech, before a rescheduled meeting with Texas got canceled due to a COVID-19 outbreak with the Longhorns.
Who would've started at QB for KU versus UT? Who knows.
While both of the Jayhawks' primary QBs in 2020 encountered problems behind a dysfunctional offensive line, Daniels only had one touchdown among his 152 throws and got picked off four times. (Daniels did run for three TDs, which led the team.)
Kendrick completed 60.8% of his passes, compared to Daniels' 50% mark, while both QBs appeared in seven games. Kendrick went 73-for-120 through the air, contributing six of KU's seven passing TDs on the season. He also threw five interceptions.
Neither Hawley nor Easters, of course, are proven yet at the college level. Hawley, from Ray-Pec High in Missouri, helped his team win the 2020 Class 6 state title and threw for 2,722 yards and 26 TDs during his final prep season. Easters passed for 1,842 yards and 13 touchdowns during his senior season at Brownsburg, in Indiana.
DeBord said he and Miles would talk more about the QB job in the weeks leading up to the start of spring practices, as they planned to have greater in-depth conversations about the team's personnel.
"I just know Coach Miles is all about competing to win," DeBord said, "and I'm sure that's the way it is."