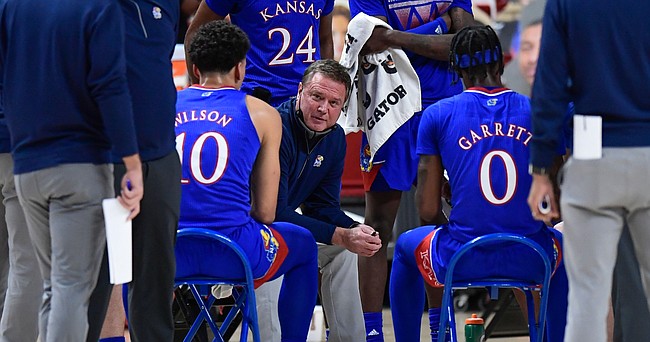 Kansas basketball coach Bill Self said Thursday night on his weekly "Hawk Talk" radio show with Brian Hanni that KU has had conversations about adding a game to its schedule for the week between the end of the regular season and the start of the Big 12 tournament.
Nothing is imminent. And the Jayhawks may not do anything. But the option to add one more nonconference game exists because of the canceled game against Tarleton State from December that dropped the Jayhawks' total number of games from 27 to 26.
The NCAA last fall pegged 27 as the maximum number of games Division I teams would be allowed to play during the pandemic-shortened season.
But KU may still decide to leave its 2020-21 season total at 26.
As of today, the Jayhawks (16-7 overall, 10-5 Big 12) have three regular season games remaining — 1 p.m. Saturday vs. Texas Tech; 8 p.m. Tuesday at Texas; and 7 p.m. Feb. 27 against Baylor.
"We've talked about it," Self said of adding a game. "I don't know if I got a great answer, (but) we actually have some opponents that (we) possibly could play."
While Self said getting the answer to certain questions — Does it have to be a Division I team? Can it be a Division II team? Will it help KU with its NCAA tournament seeding? — was important for KU to even consider the move, the most important consideration was the continual impact of the pandemic.
"The thing that (playing another game) would help is rhythm," Self said. "You know, shaking the rust off and everything. But are we better off just to have scrimmages that are like games? I do not know the answer because of COVID."
The general plan heading into the postseason is for teams who qualify for the NCAA Tournament to quarantine at their conference tournament sites and head straight to Indianapolis from there. The NCAA announced in late January that all Tier 1 individuals associated with tournament-bound programs — players, coaches, trainers, medical staff, equipment staff and officials — will be required to have seven consecutive negative COVID-19 tests before even stepping foot in Indianapolis.
Even though an additional game would be played under the same protocols that KU has operated with all season long, introducing another team into the equation would present at least some risk.
"It doesn't matter how we've been," Self said of his team's ability to successfully play out its season without any self-induced COVID interruptions thus far. "It only matters how we do going forward. Because a team could get knocked out of not only their conference tournament (but also) out of the NCAA Tournament if there's issues moving forward. And certainly key players (could) miss the NCAA Tournament because there there could be issues moving forward.
"We're going to wait and see a little bit on how the rest of this plays out," Self added. "We don't know how the league yet is handling all the pauses that's going on so I don't know what the best thing is. But I do know this. I'd almost rather be rusty than risk (it)."
Self ended the segment by praising the question, which came from a KU fan via email, calling it "a great question."
"The answer is I don't know (what we'll do) even though we're prepared to do something," Self said.