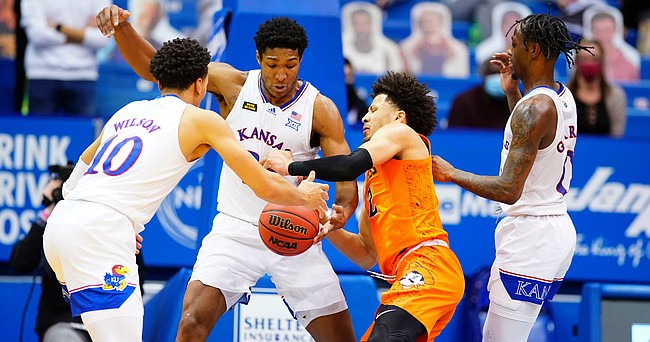 While it's unlikely that the 23rd-ranked Kansas men's basketball team will hold No. 15 Texas Tech to 40 points or fewer on Saturday in a clash of Top 25 teams at Allen Fieldhouse, the recent trend surrounding the Jayhawks says it's possible.
OK, so that may be a bit of a reach. But in addition to riding a four-game winning streak, the Jayhawks also are enjoying a streak of four consecutive games in which their defense has held the opponent to fewer points than the Jayhawks gave up the game before.
Here's a look at the breakdown:
• After surrendering 91 points in a road loss to West Virginia on Feb. 6, the Jayhawks held Oklahoma State to 66 points two nights later.
• Three nights after that, Kansas gave up just 64 points to visiting Iowa State in a 97-64 win at Allen Fieldhouse.
• Two days later, in Ames, Iowa, KU cut into ISU's offensive output even more, giving up just 50 points to the Cyclones in a 64-50 road win last weekend.
• And then on Wednesday night the Jayhawks benefited from the perfect storm of their defensive confidence and K-State's offensive ineptitude in holding the Wildcats to 41, a total that, for a while, actually looked like it might wind up in the 30s.
While the offensive ability of their opponents in those four games has had something to do with KU's defensive success, the games came at a point in the season when KU's retooled defense finally started to take shape.
Kansas coach Bill Self compared the process to one the Jayhawks went through on offense during the 2004-05 season, when they had to get creative with a strategy called "fist" to adjust to Wayne Simien being out of the lineup for a month with a thumb injury.
KU's first game without Simien that season was a New Year's Day showdown at home with Georgia Tech. And Self entered that game convinced that the new offense was ready to roll.
"And then Georgia Tech had us down like 17-2 to start the game and we can't get a shot off," Self recalled on Wednesday night.
"When you put in a new offense and you play three days later, it's going to look like crap," he added. "But that offense got pretty good. I kind of feel like that's where our defense is. We kind of changed it up and we weren't very good at it (at first) and now we're getting a little bit better and I think guys are getting more confident with it. That does take time."
KU's defensive improvement has been tied to three main areas — better communication on the court, players paying closer attention to the scouting report and, perhaps most importantly, an adjustment to the way they guard ball screens.
Last season, when Kansas went almost exclusively to the idea of downing or icing opponent's ball screens — forcing the ball handler to the baseline and dictating that the offense stays on one side of the court — the Jayhawks became flat-out nasty on defense.
This year, with junior forward David McCormack not moving as well as Udoka Azubuike did on the perimeter, early-season ball screens set against Kansas often led to easy and clear driving lanes and the Jayhawks were a step slow to react and recover.
The tweak put in to fix that is visible by what Kansas does after the screen is set.
Instead of jumping on the high side and forcing the issue, McCormack plays off and moves to contain the ball handler, sticking with him until he gives it up.
That allows the Jayhawk who was initially guarding him to recover and also prevents the driving lane from opening up.
KU does the same thing when Mitch Lightfoot is in the game. When Lightfoot and McCormack are not on the floor or when neither big man is involved in the ball screen, the KU guards simply switch, which has been a standard part of KU's defense for years.
"I think our ball screen coverage is better," Self said after KU's 59-41 win over K-State on Wednesday night. "We switch so much it eliminates all the actions and it comes down to just guard your man. And I think we're guarding our man better."
Self also praised his team's improved energy level and the fact that KU is defending the 3-point shot with more urgency, as well.
"Without us being here in the summertime, a lot of different guys were playing different ways," senior Marcus Garrett said after Wednesday's game. "(We've been) trying to find a way to guard, find a way to just be a team, and I think we're getting close to that now."
Redshirt freshman Jalen Wilson agreed with Garrett and said the time spent emphasizing the new approach — in terms of both game reps and practice reps — has helped the Jayhawks settle in more.
"We were just trying different things, trying to figure out who we are defensively," Wilson said. "These past two weeks, we've definitely figured out who we are and what our best defensive strategies are. I think lately it's been very obvious."
Asked if striving for lockdown defensive efforts had become this team's identity, Wilson wasted no time in answering.
"It should be," he said. "The defensive end is where we're going to win games."