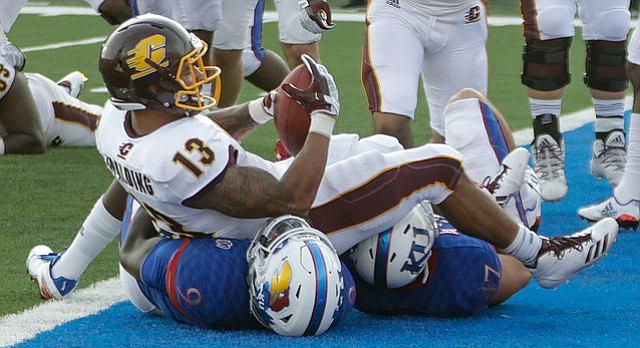 Considering the dearth of victories experienced by the Kansas football program in recent years, KU predictably ended up at the top of an unflattering list that examined costs across FBS programs.
An analysis of college football spending from 2014-18 published by AthleticDirectorU.com found that KU, by far, had the highest cost per win average, at $10,740,347.
That figure came in at nearly $4 million more than the No. 2 program on the list, Arkansas ($6.79 million). Some other Power Five programs that recently have fallen on hard times — Rutgers ($6.49 million) and Oregon State ($6.27 million) — rounded out the top four.
Much of the top 10 featured high profile programs that have lofty standards — No. 5 Texas ($5.69 million), No. 6 Florida State ($5.52 million), No. 8 Nebraska ($5.43 million) and No. 10 Auburn ($5.27 million).
Connecticut, the only non-Power Five team on the list, was seventh, at $5.52 million. Purdue came in ninth, at $5.41 million.
Of course, Kansas hasn't won more than three games in any season since head coach Mark Mangino was forced out of the program following the 2009 season.
From 2014-18 — the final year for Charlie Weis and all four years of the David Beaty era at KU — the Jayhawks went 9-51. The only other program from the highest cost per win top 10 that failed to go to a bowl during that span was Oregon State. The Beavers were 14-46 over those five seasons.
Rutgers at least had one bowl appearance, a win in the Quick Lane Bowl following the 2014 season, during the five years examined by AthleticDirectorU.com. UConn also played in one bowl game, the St. Petersburg Bowl, following the 2015 season.
Auburn finished in the top 25 three times and went to a bowl game every season during the five years referenced in the study. Florida State went to four bowls. Arkansas had three straight bowl berths from 2014-16. Texas and Nebraska both played in three bowls. Purdue made it to two.
According to ADU, the average cost per win (total expenses divided by total wins) for FBS programs was $3,544,999 from 2014-18 — the latest years for which complete data was available. The average FBS team, the study pointed out, would spend roughly $21.2 million for six wins a year. Only Power Five conferences — Big 12, SEC, ACC Big Ten and Pac-12 — had average expenses more than $21 million per year. Average expenses for Big 12 teams came in at $26.28 million per year.
No Power Five teams made it to the lowest cost per win top 10, which was led by Appalachian State, at $814,882.