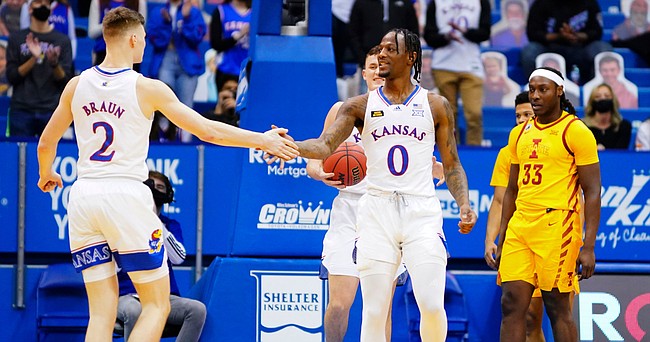 Winning back-to-back games for the first time in more than a month put a few smiles on the Jayhawks' faces following Thursday's 97-64 win over Iowa State at Allen Fieldhouse.
While looking back on the victory, Kansas coach Bill Self just kept going when listing off the names of the KU players who played well against the Cyclones.
And Self was even in the mood to give some of his guys a hard time during his postgame meeting with the media.
Sophomore guard Christian Braun, who finished with 18 points on 6-of-12 shooting in 30 minutes, caught the brunt of Self's good-natured ribbing.
Early in his breakdown of Thursday's thorough beating of visiting Iowa State, Self caught a glimpse of Braun in the locker room out of the corner of his eye and stopped what he was saying to have a little fun.
"I'll say this because he's walking by, (but) has anybody ever seen a lob pass like the one Braun threw tonight," Self asked. "I mean, in the history of ball? I don't know if anybody's ever seen that."
Document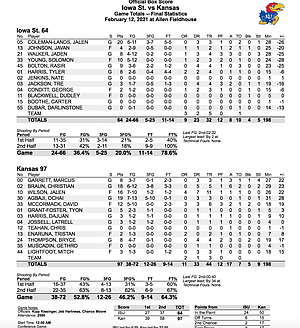 Although he couldn't be heard clearly on the microphone, Braun appeared to respond to his coach with the fact that he was "trying to make a play."
The lob in question came early in the second half, when Braun threw the ball high off the glass with Ochai Agbaji charging down the left wing. Agbaji never jumped. Perhaps because even he could not jump that high. And the ball caromed hard off the backboard and into an Iowa State player's hands.
"He's got a lot of faith in Ochai," Self joked.
Whether it was the head coach himself or his players, the Jayhawks' second straight victory after 32 days without accomplishing that feat had everyone in the Kansas locker room in a jovial mood after the 33-point rout.
"It feels good to win," Self said after the game. "And we haven't had many (like that). Other than just a few possessions, I thought we played pretty well. It was a good night. Now we've got to go back it up."
KU and Iowa State will play again at 2 p.m. Saturday at Hilton Coliseum in Ames, Iowa.
Taking it easy
With four games in a 10-day span, the Jayhawks know that taking care of their bodies and getting enough rest to be able to bounce back so quickly will be key in the next few days.
So Self and his coaching staff have adjusted their practice plans accordingly.
"We're still going to do what we do," Self said. "But, yeah, the reps (will be limited)."
Photo Gallery
KU basketball v. Iowa State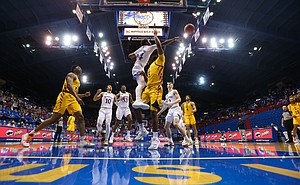 View a photo gallery from Thursday night's game between the Jayhawks and Cyclones at Allen Fieldhouse.
Self explained that on Wednesday, two days after KU's win over Oklahoma State and the day before their next game, KU's starters simply shot free throws at practice while the rest of the team went full speed.
"So, yeah, we're doing things a little different (this week)," Self added.
KU actually caught a break in the schedule. It was supposed to be four games in nine days, but next week's rematch with K-State was pushed back a day to Wednesday, giving both teams an extra day of rest and preparation.
"Even though that may not seem like a big deal, I think that'll be a pretty big deal for our team," Self said. "And probably for K-State's team too, because they're going through the same thing."
Added motivation
Falling out of the Associated Press' Top 25 this week added extra motivation to the Jayhawks' desire to get back on track.
And it was not something they were hiding from. No one on the team wanted to see KU's NCAA-record streak of 231 consecutive weeks ranked come to an end. But instead of crying about it, the Jayhawks have shifted their focus to what comes next.
"We knew we fell out," sophomore guard Christian Braun said. "And we know we've got to get back to winning and get back to what this program (hangs its) hat on. Obviously we didn't want to fall out of the rankings, but it's not the end of the world. There's still so many opportunities left in the season to get back in the rankings where we should be and where KU has been the past several years."
Added redshirt freshman Jalen Wilson: "That happening to us really means something to us and motivates us to be better. We have a lot of people watching who have played here and supported Kansas for so long, so it's up to us to change that and change how people see us as a team."
This and that...
KU's 33-point victory was the largest in the KU-ISU series since a 37-point KU win in 2007… The 97 points were the most by a Kansas team against the Cyclones since 2002... Thursday's victory marked KU's third consecutive win over the Cyclones and improved KU's lead in the all-time series with ISU to 185-66... Kansas is now 10-1 at Allen Fieldhouse this season, 813-115 all-time in the building and 274-15 under Self... Self is now 30-10 all-time against Iowa State, with all but one of those games (a victory) coming during his time at Kansas.