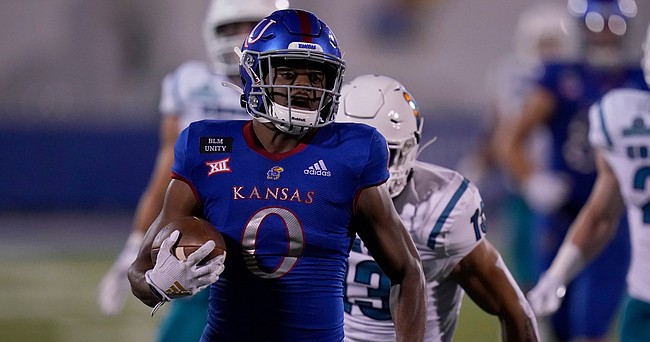 Barring another unforeseen global catastrophe, the Kansas football team's calendar will return to normal in 2021.
The Big 12, after altering its teams' schedules this past year amid the COVID-19 pandemic, plans for its programs to play 12 regular season games again this coming fall.
The conference announced on Thursday dates for all Big 12 games, finalizing the Jayhawks' schedule.
The third season under head coach Les Miles, as previously announced, is slated to kick off on Sept. 4 at David Booth Kansas Memorial Stadium, with KU facing FCS foe South Dakota.
Like many FCS programs, South Dakota didn't play any games this past fall. The Coyotes' spring season is set to begin on Feb. 19.
The Jayhawks' first road game of the season will come early, on Sept. 11, as they finally play at Coastal Carolina. KU originally was scheduled to head to Conway, S.C., in 2020, but when the Big 12 decided last summer that all of its teams' nonconference games would be home dates, the Chanticleers agreed to come to Lawrence for the second year in a row.
CCU, of course, won at KU each of the past two seasons. Head coach Jamey Chadwell's team opened 2020 with a 38-23 victory in Lawrence and went on to finish 11-1 and ranked No. 14 in the AP Top 25.
The Jayhawks' nonconference finale also will come in the Carolinas, as they head to Durham, N.C., to take on Duke on Sept. 25. The Blue Devils went 2-9 in 2020, a rare down year for the program since head coach David Cutcliffe turned it around.
But before KU plays in ACC country, it will be a part of the Big 12's standalone conference opener on Sept. 18 versus Baylor. Conference play begins for the other eight programs the following week.
KU's Big 12 slate will feature five home dates, beginning with the Bears' early season visit to Lawrence. The Jayhawks also will play host to Texas Tech (Oct. 16), Oklahoma (Oct. 23), Kansas State (Nov. 6) and West Virginia (Nov. 27).
The first of four Big 12 road games for KU comes at Iowa State on Oct. 2, giving the team three total road trips in the first five weeks of the calendar, before a bye on Oct. 9.
The Jayhawks also will travel this year for games at Oklahoma State (Oct. 30), Texas (Nov. 13) and TCU (Nov. 20).
KU went 0-9 in 2020, unable to play a full 10-game slate once a rescheduled matchup with Texas was canceled due to COVID protocols with the Longhorns.
The Jayhawks played their most competitive game of the year in what proved to be their finale, a 16-13 road loss at Texas Tech on Dec. 5.
The long struggling program heads into 2021 on a 13-game losing streak. KU's last win came in Lawrence against Texas Tech, on Oct. 26, 2019.
KU is 3-18 since Miles took over.
2021 KU football schedule
Sept. 4 — South Dakota
Sept. 11 — at Coastal Carolina
Sept. 18 — Baylor
Sept. 25 — at Duke
Oct. 2 — at Iowa State
Oct. 9 — Bye week
Oct. 16 — Texas Tech
Oct. 23 — Oklahoma
Oct. 30 — at Oklahoma State
Nov. 6 — Kansas State
Nov. 13 — at Texas
Nov. 20 — at TCU
Nov. 27 — West Virginia