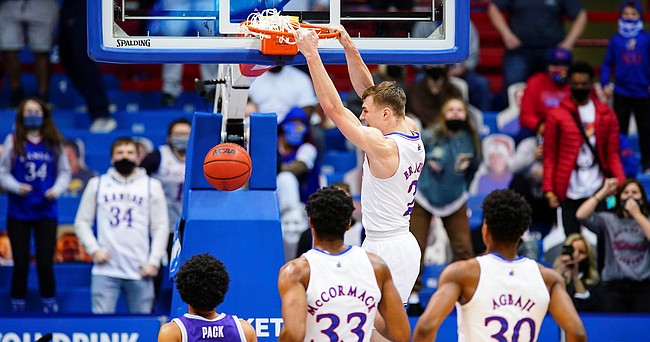 The Kansas men's basketball program on Tuesday announced another schedule change for the upcoming week.
KU's game with Kansas State in Manhattan has been moved to 7 p.m. on Feb. 17.
The game had been scheduled for 8 p.m. on Feb. 16.
The Big 12 Conference announced the schedule change Tuesday afternoon but gave no reason for moving the game back a day.
KU officials also said they had no information about why the game was moved.
Including Monday's victory over No. 23 Oklahoma State, Kansas had been scheduled to play four games in an nine-day stretch this month. The schedule change moves that to four games in 10 days.
Kansas defeated Kansas State, 74-51, at home on Feb. 2.
COVID-19 protocols have postponed and forced scheduling changes for several games throughout the Big 12 men's and women's basketball seasons.
KU's Thursday game with Iowa State — 6 p.m. on ESPN at Allen Fieldhouse — was originally scheduled for mid-January but was postponed to this week after ISU encountered COVID-19 issues.
As a result, the Jayhawks and Cyclones will play two games in three days this week. KU also plays Saturday at Iowa State.
Before the season began, the Big 12 Conference reserved the week between the end of the regular season and the start of the Big 12 tournament as designated time for potential make-up games stemming from postponements related to the pandemic.
As of Tuesday night, KU's schedule remains on track to finish as scheduled on Feb. 27, with a home game against No. 2 Baylor.