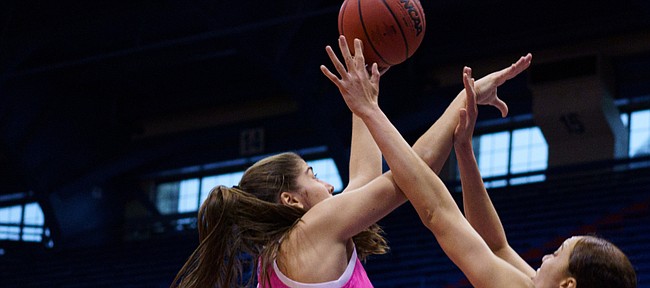 After hitting an offensive lull recently, members of the Kansas women's basketball team know the balanced scoring that carried them to a win over TCU can't be a one-off.
Ahead of the Jayhawks' road trip to face No. 19 West Virginia, they bounced back from a three-game stretch in which they were only putting up 52 points a game to post 82 versus the Horned Frogs on Sunday.
"We needed a night where we could get four or five players in double figures," KU coach Brandon Schneider said after Tina Stephens (20 points), Ioanna Chatzileonti (17), Holly Kersgieter (15), Aniya Thomas (11) and Zakiyah Franklin (10) all found times to be productive against TCU.
On the season, Kersgieter leads the team with 15.7 points per game, Stephens averages 11.7 and no other Jayhawks average more than 8.4 points.
"We don't rely on one player to go get 25 or 30 every night," Schneider said. "So we know that our scoring has to be done by committee. We obviously rely on Tina and Holly and (Franklin) a lot, but for us to be successful we've got to have others step up and contribute."
Ten games into its Big 12 schedule, KU is averaging 67.8 points per game in league contests and has scored 80 points twice. The other instance came in an 84-81 loss at Oklahoma.
What: Kansas (7-9 overall, 3-7 Big 12) at No. 19 West Virginia (15-2, 9-2)
When: 6 p.m. Wednesday, ESPN+
Where: WVU Coliseum, Morgantown, W.Va.
Quick Note: Chatzileonti, a 6-foot-2 freshman forward from Athens, Greece, has emerged this season as KU's best rebounder.
And against TCU, the young frontcourt player destroyed the Frogs on the offensive glass, collecting eight of her 10 boards off of KU misses.
Now averaging 7.9 rebounds a game (2.6 offensive boards), Chatzileonti had her biggest rebounding game in Big 12 action to date versus TCU, helping KU snap a four-game lowing streak.
Streaking: The Mountaineers haven't lost a game since the third week of December. Riding a 10-game winning streak into the matchup with Kansas, head coach Mike Carey's group is coming off a road win at Texas in which sophomore guard Kirsten Deans poured in a career-high 30 points.
And Deans (13 points per game on the year) enters the week as WVU's third leading scorer. The Big 12's second-place team also has 6-2 forward Esmery Martinez (13.6 points) and 5-9 senior guard Kysre Gondrezick (21.5 points) to throw at opponents.
With her 20 points in the win at Texas this past Saturday, Gondrezick now has scored at least 20 points in each of WVU's past five games and eight of the team's previous nine.
Gondrezick averages 2.4 made 3-pointers a game and is shooting 38.4% from long distance this season.
Slumping: KU's offense could also use a little bump from the Jayhawk who has taken the most 3-pointers this season, veteran guard Julie Brosseau.
Currently 23-for-92 (25%) from downtown, Brosseau has hit a cold patch since going 4-for-9 versus Texas Tech on Jan. 20.
In the six games since then, Brosseau is 8-for-32 (25%). She went 1-for-4 while playing nine minutes in KU's victory over TCU.
Last game's starters
Kansas
G — Zakiyah Franklin, 5-7, so.
G — Holly Kersgieter, 5-10, so.
G — Brooklyn Mitchell, 5-6, jr.
F — Ioanna Chatzileonti, 6-3, fr.
C — Chisom Ajekwu, 6-3, so.
West Virginia
G — Madisen Smith, 5-5, jr.
G — Kirsten Deans, 5-8, so.
G —Kysre Gondrezick, 5-9, sr.
F — Esmery Martinez, 6-2, so.
F — Kari Niblack, 6-2, jr.
More like this story on KUsports.com