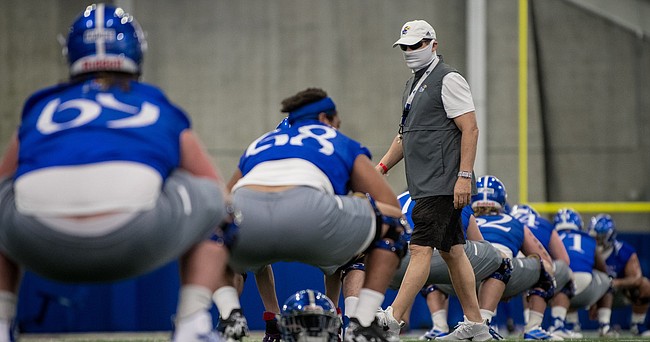 Kansas football coach Les Miles and newly hired coordinator Mike DeBord still have some time to lay the foundation for the Jayhawks' new offense before the players get their first cracks at running it during practices.
After missing out on spring football completely due to the COVID-19 pandemic a year ago, KU is set to have its first offseason practice of 2021 on March 23, Miles told the Journal-World in a phone interview.
"Last year I thought we had done a great job, because we had taken our team and moved (spring football back) and made it as late in the calendar so we could coach it longer," Miles said. "And that didn't help us at all. We didn't get a snap of spring ball."
Throughout a punishing 2020 season, Miles and his players often brought up how much the Jayhawks missed having spring football.
It appears KU and other college football programs won't have that issue this spring, though. KU Athletic Director Jeff Long said this past week during a Kansas Athletics board meeting the Jayhawks expect to have a typical 15-practice schedule. Long also said if it becomes necessary for spring practices to be put on pause due to positive COVID tests and/or contact tracing, the NCAA is allowing football programs to ask for a waiver to extend their spring schedules.
During the six weeks between now and the start of spring practices, Miles said KU's offensive players will be able to get an introduction to some of the base plays DeBord will want to run.
"I think that we'll look at film on things that we've done in last year's offense and things that he did," Miles said. "As soon as they give us the opportunity to go onto the field, we'll be looking at Mike's stuff, which will be fun."
As of last week, when DeBord had his introductory press conference at KU, the former offensive coordinator at Indiana (2017-18), Tennessee (2015-16) and Michigan (1997-99, 2006-07) didn't yet know what types of offensive packages he might want to install at KU.
The new KU assistant, who will also coach quarterbacks, brought up as examples during his session with the media that the Jayhawks could potentially use one running back, one tight end and three receivers; one back, two tight ends and two receivers; or two backs, one tight end and two receivers.
"I don't know yet," DeBord admitted. "We're going to put our best personnel out there to win football games. Whatever that is."
DeBord also spoke of the importance of learning from returning KU staff members about the players' strengths as a first step in the process of compiling a playbook.
"We're going to start this thing as a group," Miles told the Journal-World about the offensive installation involving not only the O.C. and head coach, but also other KU assistants.
Miles said he appreciated taking a collaborative approach to the offense.
"It's always meant to be that way," Miles said. "That's how good football teams amass best ideas. Period."
Even before those discussions began, DeBord said his first conversations with Miles upon accepting the job revolved around him asking about players at every position.
According to KU's newest offensive coordinator, his system of formations is "really easy" for players to learn.
"That's what I want in our system," DeBord said, "is to be player friendly in the learning part of it. Because if a kid knows what he's going to do, he's going to play fast. The kid that doesn't know what to do, he's not going to play fast. We want to play fast."
KU's spring semester strength and conditioning workouts began on Feb. 1, giving the Jayhawks on campus seven weeks to prepare themselves physically for another important spring practice schedule for the rebuilding program.