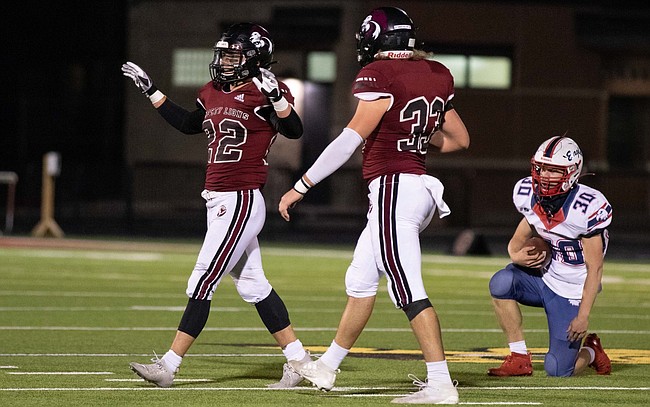 Lawrence High senior Cole Mondi knows the challenge that he now has in front of him to carve out a role at the collegiate level.
Even as a preferred walk-on, there is no guarantee that Mondi ever sees the field for a single snap as member of the Kansas football program. He understands that he will have to outwork players who are on scholarship to eventually make an impact for the Jayhawks.
"I'm just ready for the challenge," Mondi said right after signing his national letter of intent to KU Wednesday afternoon in the Lawrence High gymnasium. "That's all I could ask. Being a walk-on, it's really just you vs. whatever you put into it."
"I look forward to getting up there and being a part of it," Mondi added. "And making a spot for myself."
Mondi chose to join Kansas as a preferred walk-on, despite garnering plenty of interest from FCS schools and Division II programs. Mondi has complete confidence that he made the correct collegiate choice by staying home, mostly because he believes in the coaching staff.
"Just going into college, I knew I was going to need as much structure as possible," Mondi said. "What KU lays out for their student-athletes and their football program, it is really hard to lose. Just the effort I put into it is what I'm going to get out of it. And that's what I'm looking forward to."
Mondi, who is listed at 5-foot-10 and 200 pounds, will have to put in that effort right away. For one, he has to add muscle to his frame while not losing that sideline-to-sideline speed as a tackler.
Mondi admitted that he is going to KU as a linebacker, which was his primary position in high school. He could ultimately switch to safety based on how he develops in the passing game. Mondi was also a big part of the LHS special teams unit during his high school career, so he'd be willing to help out in that area for the Jayhawks.
"I need to make plays on special teams," Mondi said. "I need to be a contributing factor to the offense and give the offense the best looks possible. I (need to) do what I'm told and do what I can to help the team win at all costs."
"I just know when I'm up there I'm going to make plays in any way possible," Mondi added.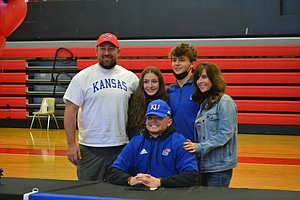 It is actually an interesting position for Mondi, considering all that he has accomplished during his illustrious high school career.
Mondi was a rare four-year starter for Lawrence High, serving as the anchor of the defense from his linebacker position. He seemingly always was around the ball when a tackle was being made by the Lions, who went 17-3 over the past two seasons.
After earning nearly every accolade imaginable throughout his four-year career, Mondi will now embrace an entirely different role at the collegiate level.
"It will be different," Mondi said. "It's what I signed up for and it is what I want. It's going to take some adjusting, that's no lie, but I'm ready for it."
Fortunately for the Jayhawks, Mondi has been one of the hardest-working players on the team even when he was a standout. Mondi was often praised by LHS head coach Steve Rampy for his work ethic in practice and in the weight room.
This led to Mondi delivering when his team needed him the most. Mondi actually made the game-saving tackle on a 2-point conversion in a 21-20 win over Olathe North on Oct. 16. Mondi believes a lot the qualities that he learned at Lawrence will lead to success for him at KU.
"Just doing all the little things the right way has never not worked for anybody," Mondi said. "That's what I plan on doing."
It also helps that Mondi will have a familiar face to enjoy his college experience with. Lawrence senior running back Devin Neal, who is the top-ranked player in the state, already signed his national letter of intent to play football and baseball at KU.
That particular tandem — one player on each side of the ball — was instrumental in an impressive turnaround by the Lions. LHS went from going 1-8 during the 2018 season to being the top-ranked team for much of 2020 during a 9-1 campaign that ended in the Class 6A quarterfinals.
"He knows how I feel," Mondi said of Neal. "To play with any of my teammates, but especially someone I've known since my first day of kindergarten, it's crazy. It's crazy to be a part of it with him, so I'm excited about it."