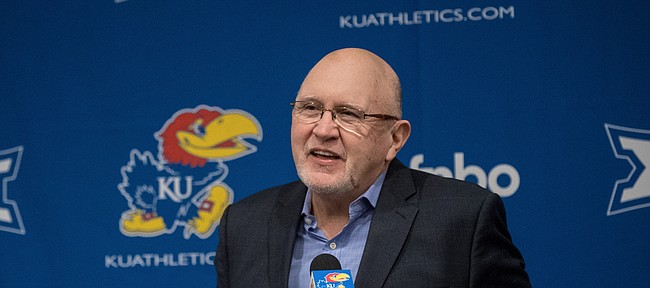 The latest offensive coordinator brought in by Kansas football coach Les Miles, Mike DeBord signed a two-year deal that will pay him $600,000 a year.
The agreement, which expires in February of 2023, calls for Kansas Athletics Inc. to pay DeBord — an offensive analyst at Michigan in 2020 and an O.C. for the San Diego Fleet in the AAF in 2019 — an annual base salary of $225,000, as well as $375,000 a year for what is described as "personal services rendered."
According to USA Today's database of assistant coaches salaries, DeBord made $502,500 in his most recent college football coaching position, as the O.C. at Indiana in 2018.
Prior to that, Tennessee paid him $505,000 in 2016, his final year with the Volunteers.
KU paid former offensive coordinator Brent Dearmon $250,000 in 2020, and that's the amount he would've been paid this year, too, had Dearmon not left this past week to become the O.C. and quarterbacks coach at Middle Tennessee State.
Defensive coordinator D.J. Eliot was KU's highest paid assistant in 2020, making $691,056, per USA Today, after he took an $8,944 reduction in his total salary due to pandemic cost saving measures at KU. Eliot, under contract through the end of 2021, remains the highest paid assistant on staff, due to make $700,000 in the third year of his current deal.
Should DeBord decide to resign or take a job elsewhere before his contract with KU expires on Feb. 28, 2023, the buyout would cost the equivalent of his total yearly salary, $600,000.
However, the deal signed by DeBord, 64, includes language that could potentially give him an out after one year. Under the portion of the agreement pertaining to scenarios in which the O.C. terminates the contract, it states that should he decide to "permanently retire" between Dec. 20 and Dec. 31 of this year, he would not owe KU the $600,000 buyout money.
That comes with a stipulation that DeBord not take any "athletics-related" job during the two years following his retirement from KU. If within the two years he took a job — even as an independent contractor, consultant for a college program or NFL team, or with a "sports-related" organization — KU would be owed the $600,000 buyout.
In the case of a non-retirement exit, the contract also states DeBord would need to get permission from KU for him or his representation to discuss a job opening with another NCAA football program, or any other coaching or non-coaching jobs that would result in him ending his time with the Jayhawks before his deal expires.
Just like other assistants on Miles' staff, DeBord has non-cumulative incentive bonuses in his contract tied to the KU program's theoretical postseason success. Each potential bonus amount is below and would be worth the listed percentage of his total yearly salary:
• 5% if selected for any bowl game or
• 7.5% for any bowl game win or
• 10% if selected for a New Year's 6 bowl game or
• 15% for a New Year's 6 bowl win or
• 15% for making the college football playoff or
• 20% for one college football playoff win or
• 25% for winning the national championship.
Additionally, there is a 5% bonus payment for KU appearing in the Big 12 championship game — regardless of the outcome.
If at some point during the next two years KU decided to fire DeBord without cause (a measure the head coach and the administration opted to take with Miles' second offensive coordinator, Les Koenning, midway through the 2019 season), DeBord would be owed the remainder of his salary, as well as any bonuses he may be owed at that time.
If KU had cause (some form of misconduct or violation of the contract's terms) to fire DeBord, KU wouldn't owe him any money beyond the date of termination.