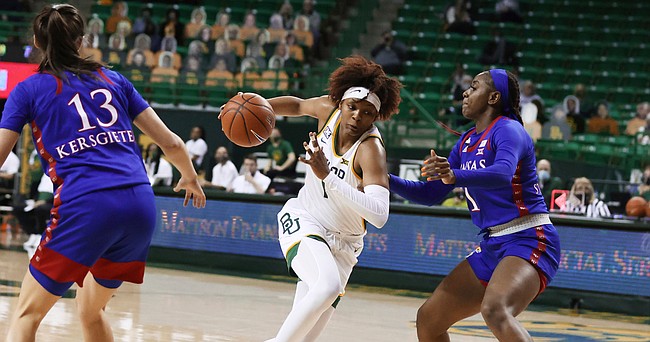 Baylor forward NaLyssa Smith recorded a double-double of 17 points and 10 rebounds, two of her teammates finished a single point and rebound away from joining her and eighth-ranked Baylor rolled over Kansas 83-50 on Thursday night in Waco, Texas.
The loss dropped Kansas to 6-9 overall and 2-7 in Big 12 play and pushed KU's losing streak to four games. It also was the second consecutive game where KU's offense could not get out of the 50s while its defense allowed 80-plus.
Brandon Schneider's squad now has lost seven of its last eight games. The Jayhawks also have suffered three consecutive losses by at least 24 points.
After an eight-point first quarter, Kansas actually crawled back into the game by winning the second quarter 20-17 and trailed by just 10 at halftime, 38-28.
Sophomore guard Holly Kersgieter scored 14 of her game-high 21 points in the first half, knocking in five of 10 shots from the floor and two of three from 3-point range.
KU's leading scorer finished 3-of-5 from downtown and also added five rebounds in 29 minutes.
However, just one of her teammates (freshman Ioanna Chatzileonti, 8 points and 6 rebounds) scored more than five points and the Jayhawks turned it over 18 times while shooting 35% from the floor.
Baylor (13-2 overall, 8-1 Big 12) out-rebounded Kansas 56-25 (including 26-4 on the offensive glass), outscored KU 21-1 in second-chance points and got 36 points off of its bench compared to just 12 bench points for the Jayhawks.
BU put the game away with a 25-10 advantage in the third quarter, turning a 10-point halftime lead into a 25-point cushion heading into the final quarter.
Baylor guard Dijonai Carrington also recorded 17 points for the home team while backcourt mate Moon Ursin chipped in 16 points and nine rebounds and starting center Queen Egbo added nine points and 11 boards.
The win was the fifth straight for Baylor since falling at home to Iowa State on Jan. 16. That loss came three days after the first meeting between Kansas and Baylor was postponed because of COVID-19 protocol issues.
No makeup date has been set for the second Kansas-Baylor matchup of the season.
KU will look to snap its four-game losing streak this weekend when TCU (7-8, 2-8) comes to town for a 1:30 p.m. Sunday tipoff at Allen Fieldhouse.