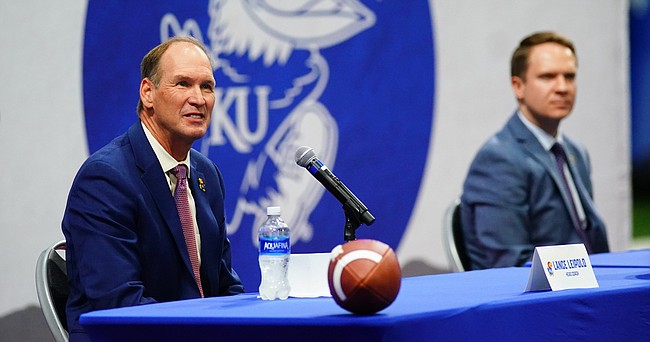 In the months University of Kansas Athletic Director Travis Goff has spent around the man he hired to rebuild KU's football program, Lance Leipold's attention to details and reputation have stood out to the AD.
Goff said during his appearance on the "Kansas Football Season Kickoff Show" earlier this week that Leipold's approach is characterized by accountability.
During an interview with Brian Hanni, Goff said Leipold deals the same way with not only KU's players, but also coaches on the practice fields, support staff around the program, administrators and people throughout the athletic department.
"It's the little things that he's helping reenforce to all of us," Goff said, "that are going to be what it takes to build this program to the place that we all want it to be."
Within the realm of university athletic directors, Goff said his peers have "a quiet confidence" about KU's first-year head coach, given Leipold's proven track record.
Leipold won six Division III national titles with Wisconsin-Whitewater before turning around the Buffalo football program over the course of the past six years. Between those two stops, Leipold heads into his KU debut — 7 p.m. kickoff versus South Dakota on Friday at David Booth Kansas Memorial Stadium (ESPN+) — with a 146-39 career record as a head coach.
"He's really universally respected in college football," Goff said. "And I talked to so many sitting head coaches, past head coaches, and they all across the board raved about who he is as a man in terms of his integrity, his process of developing and building programs and his commitment to the (players) and to the institutions that he's served."
Praise for specialists
During Leipold's segment with Hanni for the "Kansas Football Season Kickoff Show," the head coach described the Jayhawks' special teams as "extremely consistent."
Leipold said the field goal unit was on display within a play rotation at a recent practice and what he saw left him impressed.
"It might've been the best I've had in 15 years as a head coach," Leipold said. "Very steady performers, very unassuming young men."
Sophomore Jacob Borcila is slated to kick field goals and extra points for the Jayhawks again this season. In 2020, as a true freshman, Borcila went 6-for-9 on field goals and 10-for-10 on PATs.
NFL cuts impact Jayhawks
As NFL teams had to pare down their rosters on Tuesday, a few former KU football standouts were among the many around the league who were cut.
Cincinnati waived 20 players, including rookie Pooka Williams, who had been with the team as an undrafted free agent. There's a chance the Bengals could turn around and sign Williams to their practice squad if he clears the NFL's waivers.
Buffalo released 23 players, including receiver Steven Sims Jr. The Bills just this past week signed Sims, after Washington released him.
Among the latest group of players Washington released on Tuesday was former KU defensive lineman Daniel Wise.