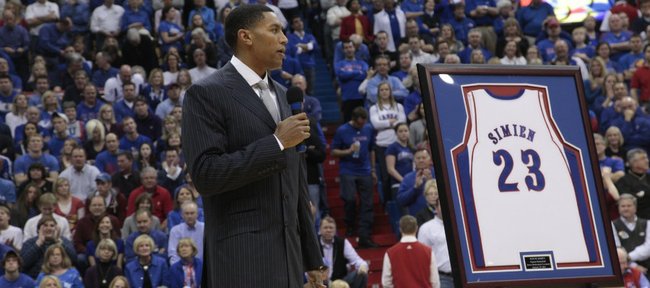 Former Kansas basketball All-American Wayne Simien Jr. has been hired as an associate athletic director for engagement and outreach, KU Athletic Director Travis Goff announced on Tuesday night.
According to a news release announcing the hire, Simien "will play a key role in leadership and professional development opportunities for student-athletes, coaches and staff."
Simien has served his alma mater in various roles during the past 12 years, and he noted on Twitter shortly after the hire was announced that timing played a big role in him accepting the job.
"The leadership is right. The role is right. The timing is right," Simien tweeted. "Thankful for the opportunity and eager to serve."
According to Goff, a combination of Simien's personality traits led to the former basketball standout being picked for his new role.
"Wayne is one of our very best Jayhawks and his integrity, leadership and passion for KU will immediately benefit our student-athlete experience," Goff said in the release. "He is committed to strengthening every aspect of KU and his profound care for our student-athletes is inspiring. Adding him in this capacity will provide tremendous impact for both internal and external initiatives. We are incredibly excited to welcome Wayne, Katie and their five children to KU in this official role."
Simien, a Leavenworth native who finished his college playing career in 12th place on KU's all-time scoring list, will continue to serve as the host of The Jayhawker podcast.
In addition to Simien, Goff also announced the hiring of Collin Sexton as the KU athletic department's chief of staff.
Sexton will be responsible for managing the day-to-day operations of Goff's office and will assist with the development and strategic initiatives associated with the department. '
Sexton, who played football at Kansas State before graduting in 2016, comes to KU from Northwestern, where he was the assistant athletics director for leadership giving. The Abilene native joined the Northwestern staff in February 2019.
"A fellow Kansan, Collin is passionate about building upon our foundation of success and helping student-athletes reach their potential," Goff said. "His journey as a walk-on football student-athlete and diverse experience in college athletics provides a unique lens as we launch and implement strategic initiatives to better serve our myriad of constituents. His previous experiences in development will also benefit Kansas Athletics given our emphasis on growing our donor base."