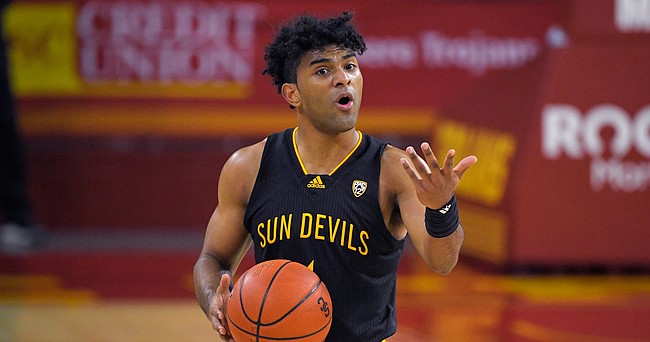 There may still be a long way to go until Kansas transfer Remy Martin fully has a grasp of what his role will be with the Jayhawks during the upcoming season.
But, after spending a little over two weeks around him — including the end of summer workouts and the first full week of preseason practices — KU coach Bill Self has discovered one thing he really likes about his new point guard.
"He's thinking right, right now," Self said Monday before teeing off at the Bill Self Golf Classic to benefit the Boy Scouts of America. "But he can also play to his talent a little bit more and his ability to score."
The Jayhawks still have a month before official practices begin. And, from there, they have another five weeks before their first official game. So there's plenty of time for Martin to gel with his new teammates and gain a better and more complete understanding of what playing point guard at Kansas requires.
Truth be told, it's different things for different players. And that's been true even just in the Self era.
Some, like Aaron Miles and Russell Robinson, were true point guards who sought out ways to set up their teammates and make sure the offense ran smoothly before anything else.
Others, like Sherron Collins and Frank Mason, as upperclassmen, shouldered the load offensively as 20-points-per-game scorers and the top option on their respective teams.
And then there were the Devonte' Graham and Devon Dotson types, who were good enough to score at will but also had enough help around them to play the role of table setter at any given moment.
Martin comes to KU with the skills to fill either role, but needs the time to figure out which one best suits this particular Kansas team and his 17 new teammates.
So far, Self has liked what he's seen in terms of Martin's effort toward figuring that out.
"He's trying so hard to fit in," Self said.
As for which path Self believes ultimately will be Martin's primary role at Kansas, that remains in the to-be-determined category.

"I'm not really sure yet," Self said. "I haven't quite seen it yet. And I'm not being negative. He's a pass-first point guard right now, and he was a shoot-first point guard at Arizona State."
Regardless of how it all plays out, or when and where Martin (with the ball in top right photo below) plays which role, seeing him in person has done nothing to change Self's opinion on how important adding the talented senior guard was this offseason.
"I think he's going to be a huge addition for us," Self said. "But exactly how he fits in, he gives us some speed and some feistiness and some energy that I think will be very welcomed."