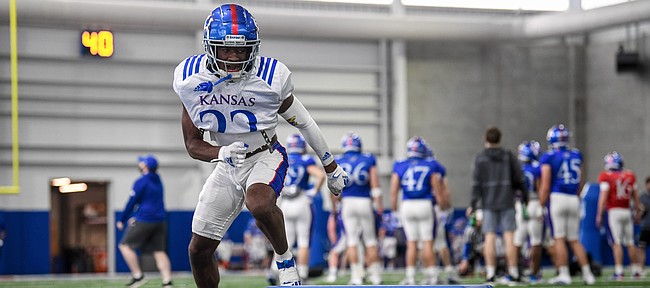 When the Kansas football team opens the season on Friday versus South Dakota, head coach Lance Leipold and his staff will find out more about the Jayhawks' young secondary.
In the meantime, Leipold said the defensive backs — a group in which five of the eight players listed on KU's first published depth chart are underclassmen — have impressed him this preseason with their athleticism and overall competitive nature.
"They're young. And with that the inexperience and growing pains can happen," Leipold added, when asked Monday during his press conference about his comfort level with a secondary where first- and second-year players will have to be on the field on game days.
KU's two starting safeties are expected to be super-senior Ricky Thomas and junior Kenny Logan Jr. But the team's first depth chart of the year also listed two players without any career starts as first-string cornerbacks: sophomore Duece Mayberry and redshirt freshman Ra'Mello Dotson.
More youth exists within the secondary's reserves, too, with freshman Jacobee Bryant at corner and Jayson Gilliom and O.J. Burroughs at safety. The only other veteran in the group is graduate transfer Jeremy Webb (Missouri State), who was listed as a second-string corner.
Leipold thinks cornerbacks coach Chevis Jackson has done an "excellent" job preparing his group.
"Not just on the field, but mentoring them off the field," Leipold said of Jackson's impact. "We continue to work with that whole group about being the complete player and what they need to do to prepare."
KU's head coach said the defensive backs have embraced that idea of taking care of "all those little things," which Leipold anticipates will help them harness the athleticism and potential that got them recruited to KU.
No update on injuries
Leipold declined on Monday to reveal whether any potentially impactful players on the roster will be out for Week 1 (or longer) due to injury.
"That's a loaded question," Leipold said, when asked how the Jayhawks were doing from an injury standpoint. "We're doing OK. You know, you'd like to be better at some spots. I will say, as always through my head coaching career, on game week the injury report seems to shrink quite a bit. It did again this week, so we'll see who is fully available."
Asked if any players the coaches were hoping to count on were out, Leipold indicated nothing has changed to their personnel expectations since they began game-planning this past week (which also could mean it's possible some players got hurt before that process began).
As far as Leipold's philosophies on dealing with injuries go, the first-year KU coach said he generally expects players to be able to practice during the week if they want to suit up and contributes for the game.
"But we always look at the role of the player and how much work they've had throughout time," he added.
Message for KU students
Ahead of his first game as KU's head coach (7 p.m., Friday, on ESPN+), Leipold was asked what message he would give to the students.
"They have a chance to be impactful. And hopefully they know that they'll have a chance to be a part of this and help us turn this program around," Leipold replied.
The coach went on to say he hopes part of the college experience for KU students will be attending football games and creating a home field advantage.
The question prompted Leipold to remember his time years ago as a Division III coach. He was out recruiting an athlete when the prospect told Leipold he wasn't interested.
"I want to go to a school whose scores are (on the ticker) on the bottom of ESPN," Leipold recalled the recruit telling him.
Leipold said that idea of a student wanting to go to a larger university in part to go to games and have fun always stuck with him.
"And now to have a chance to be at a place like the University of Kansas, I would hope there's plenty of students that part of that college experience starts on Friday night, that they can come with some of their friends, some of their new acquaintances they've met on campus and be impactful," Leipold said.
"Just like everyone in our community, our alumni, our fan base, our student body can all have a part in putting this program where it needs to be," he added.