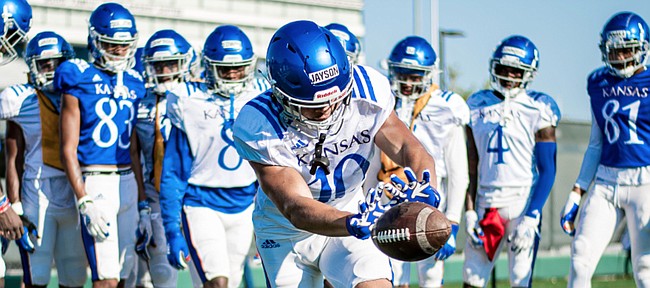 Few football players fresh out of high school possess the abilities necessary to show up on campus and grab the attention and respect of a program's veteran leader right away. But as soon as the Kansas football team's spring practices began this offseason, Kenny Logan Jr. started to think Jayson Gilliom had what it took to play a factor in the secondary as a true freshman.
Gilliom, who graduated early from North Gwinnett High in Suwanee, Ga., so he could get a head start on his college career, kept making plays in one-on-one drills and coming up with tackles at safety during team periods at practices.
"Jayson is a physical young guy. He has a knack for the ball. He just has a dog in him that most guys, you feel me, you've got to kind of find out," said Logan, a fellow safety. "And Jayson came in with that intensity like he wanted to work — and he wanted to outwork everybody else."
Rated by Rivals as a two-star prospect in KU's 2021 signing class, Gilliom's name routinely came up throughout the spring when teammates were discussing some of the promising young players in the program.
Looking back at that critical stretch of his first semester at KU, Gilliom said he went through a period of transition before he started to feel like he belonged and was good enough to play an important role for the defense this year. The 6-foot-2, 205-pound freshman said, like most freshmen, it took some time to adjust to the speed of the college game.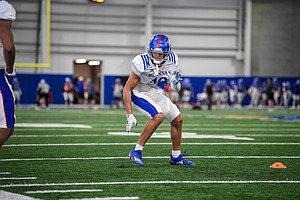 "But I felt coming out of spring that I had a good idea of how things are with college football," Gilliom said. "Since spring I feel like I've been in a good position."
By the time KU hired head coach Lance Leipold to take over the program, just as the Jayhawks wrapped their spring schedule with interim head coach Emmett Jones, Gilliom's reputation already had been established within the program.
So much so that defensive coordinator Brian Borland said he often has to remind himself that Gilliom is a freshman headed into a college season for the first time.
"He is a super conscientious kid that comes in and asks questions and stays after meetings and asks questions," said Borland, who also coaches KU's safeties.
Gilliom chuckles when hearing Borland sometimes forgets he's still a first-year player. He thinks enrolling early and going through a full spring practice schedule sped up his development. Gilliom said veterans Logan and Ricky Thomas also taught him a lot and played a part in his progression.
"And just sitting down with Coach Borland and learning the defense and having him as a resource to use has been really beneficial for me," Gilliom said.
Already Gilliom has gained enough trust from the D.C. that Borland has him playing both safety spots, and the assistant said Gilliom is the defensive back who comes in with some of the sub-packages KU uses.
Said Logan of Gilliom's ability to play either safety spot: "That's definitely tough to ask of someone young, but Jayson's a smart guy, he's got good character, so he's able to do it."
Borland noted Gilliom takes a lot of pride in his positional knowledge. The young safety said he splits his practice reps between both safety spots to make sure he's assignment sound.
As his first season at KU approaches, Gilliom feels like he's catching up on the time he lost by not having the new staff around in the spring. Most of the past several weeks have come with deep dives into Borland's playbook.
When it's time for him to get on the field during games this fall, Gilliom wants his football IQ and the work he's put in this offseason to show. And he hopes people watching him for the first time notice his "high motor."
"I feel like I give an extreme amount of effort," he said.
His position coach and D.C. agrees. Borland said he never has to worry about what type of exertion is coming from Gilliom. The coach is more likely to be concerned the freshman is playing so hard Gilliom will run himself into the ground.
While Gilliom still has areas where he can improve and things to learn, Borland said the progress is evident every day.
"He's going to factor in to what we're doing," Borland said.
In a good spot to help KU's defense as a true freshman, Gilliom said he wants the unit to keep "stacking days" of progress one after another this year, as the group has done during preseason practices.
And what about his individual goals for this fall?
"I just want to help the defense in any way I can, help the team in any way I can," Gilliom said, "so we can kind of change the culture here."