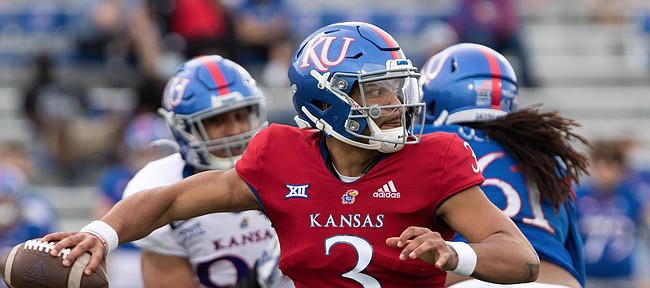 If Kansas football head coach Lance Leipold and his staff think there's a definitive leader in the team's preseason quarterback competition, he "probably wouldn't share" that information publicly, Leipold told reporters during a Tuesday video press conference.
"Nah, not really," he replied, when asked whether one of the three candidates had emerged.
Just as Leipold figured would be the case — the Jayhawks' head coach said when preseason camp opened the first week of August he might not name a starting QB until just before the season opener — the competition isn't being rushed. Leipold, offensive coordinator Andy Kotelnicki and QBs coach Jim Zebrowski are content to keep weighing their options.
Either senior Miles Kendrick, junior Jason Bean or sophomore Jalon Daniels will open the season as KU's No. 1 QB on Sept. 3 versus South Dakota. And what transpires between now and then will determine the outcome of the race.
"It continues to be very competitive. Different guys at different days have been available," Leipold said. "I think they're all getting better. I'm pleased with all of their progress."
Although he mentioned availability at practices as one factor of the competition up to this point, Leipold clarified that he's "not at all" concerned about an injury keeping one of the top three QBs from playing.
"Much like a lot of guys, through camp and different things, there's different times where guys are modified in different ways," he said. "That happens at every position."
While Leipold, his assistants and KU players have made sure not to tip their hands while speaking with reporters, the Jayhawks say they like aspects of what all three QBs provide.
Said Leipold: "I feel confident that once we decide who that starter may be that they'll be able to lead our offense."
Asked specifically about the progress of Bean, a former North Texas starting QB who joined KU this summer via the transfer portal, Leipold said he can see Bean is beginning to better understand the offense and have more confidence in the huddle.
But the head coach also said he thinks the same is true of all the QBs.
"And I think the understanding part, we'll probably talk about it all year long," Leipold added regarding the QBs getting comfortable with Kotelnicki's offense.
"But when you talk about these first couple weeks, for them to have confidence they have to really understand what they're saying in the huddle and know where everyone's at. And it takes away from your command (if you haven't mastered it yet)," Leipold said. "And that's not their fault. It's just the timing of the situation."
Because KU was searching for a head football coach in the midst of spring practices, Leipold and his staff didn't take over the program until that crucial portion of the offseason had concluded. His introductory press conference came two days after the Jayhawks' spring game.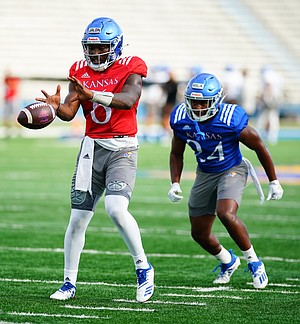 The new staff didn't have 15 practices — the equivalent of the spring schedule — with the Jayhawks behind them until Sunday. Tuesday marked the team's 17th practice of the preseason.
So looking at it from that perspective, Leipold said, the current staff would only be a couple of practices into preseason camp at this point in ideal circumstances.
The QBs, the coach said, have shown steady progress in their understanding of the offense. The system requires its QB to be in command, he added, and confidently tell teammates where to line up, when to go in motion, make reads based on the defense and more.
"But now that we're at this point, you're starting to see those things happen for Jason and for all the guys," Leipold said.
Even if the competition remains close when the Jayhawks wrap up preseason practices, Leipold said he doesn't want to rotate QBs in the opener.
"That has not been discussed," he said.