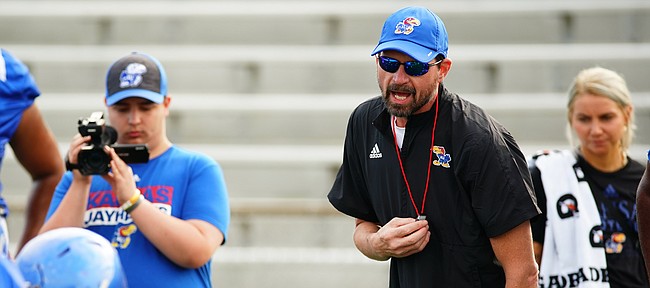 Whatever gratifying — or agitating — signs offensive line coach Scott Fuchs saw out of his players during a Friday morning scrimmage, the Kansas football assistant kept those to himself during his first interview of preseason camp.
"Walking off the practice field it's never as good as it seems and it's never as bad as it seems," Fuchs replied, when asked about what he had just witnessed inside David Booth Kansas Memorial Stadium, the setting for the Jayhawks' 14th August practice, complete with an officiating crew.
While Fuchs didn't want to give away the strengths or weaknesses of a unit he is trying to revamp before the Sept. 3 season opener versus South Dakota, the position coach who came with head coach Lance Leipold to KU also said he tries not to overreact in the moment. That's because he gets a clearer picture of the O-line's progress when reviewing video footage after practices.
"I am encouraged every time I do watch the film, I will promise you that," Fuchs added. "But sometimes there might be something like, 'Boy, I thought I covered that really well. Evidently I didn't.' That could happen. Really I'm kind of looking for things that I need to do better more so than them."
In scrimmage settings this preseason — Friday's closed session was the second of camp — Fuchs is watching what his O-linemen do at all times: before snaps, when a play is live and after the whistle blows.
"Really, there are some things like game mechanics, substitution situations, red zone — really, how we handle ourselves without a coach out there," he said of some of what he monitored.
During a normal practice, Fuchs will stand on the field behind the formation to examine and coach. But for the scrimmage he wanted to be on the sideline, so he could watch it from the same angle that he will on game days this fall.
Throughout camp the past couple of weeks, KU's offensive line has featured some different combinations. Although no depth chart or starting lineup has been announced, it looks as though senior tackle Earl Bostick Jr. and super-senior guard Malik Clark are the leading candidates on the left side of the line.
At center, junior Mike Novitsky, a two-year starter at Buffalo, has been praised for his play and leadership all preseason.
With Novitsky transferring in this summer, junior Colin Grunhard, who played center in the spring, has emerged at right guard. That's a spot where super-senior Chris Hughes, who is working his way back from an injury, could play a factor, too.
And at right tackle, Fuchs has liked the play of two redshirt freshmen: Bryce Cabeldue, who made two late season starts for KU in 2020, and Michael Ford Jr., who transferred in from UB.
Cabeldue called Fuchs a great coach and pointed to ways in which the new assistant's philosophies are making an impact.
"He helps me be able to move my body, teaching us new forms and stuff like that. I really like how he's making us change up our blocks, change up our process," said Cabeldue, who added Fuchs is making it easier for the O-linemen to execute their blocks against defenders.
While Fuchs' techniques and teachings were new for most of KU's O-linemen, Novitsky knew them well when camp began. The junior center, a first-team All-MAC selection in his final year at UB, said the Jayhawks learned to adjust.
"That takes a little time to break the old techniques and get the new ones in," Novitsky said. "But every day we've been getting sharper with the techniques and executing them on the field."
Novitsky and Ford, of course, are the only KU O-linemen who went through spring football with Fuchs. The Jayhawks' newest O-line coach said after the majority of his group went through spring practices with a different staff and in a different system, he's training them to add another thought component to how they play their positions.
All of them typically know what to do. Fuchs said he's emphasizing the how-to.
"That gets a little more involved there, because that kind of depends on where the defensive lineman is, where the linebacker is. There's some things involved there. It's not as simple as: run out there and go this direction or go that direction," Fuchs explained.
"I am very excited about the progress we've made in 14 practices," he added. "They've done a really good job picking up what we're doing."
Bostick called Fuchs a great leader and mentor. The fifth-year senior also thinks Fuchs' arrival has helped improve the O-line's culture.
"He's trying to implement his new spin to the KU offense," Bostick said. "I appreciate him coming to Kansas and being willing to make us better."
Artificial crowd
For Friday's scrimmage, KU pumped in crowd noise that blared from the speakers in the south side of the stadium.
Said Cabeldue: "I'm not a big fan of it, but it gets us ready for the games and stuff like that, so whatever it takes."
Competition up front
Ford said after the scrimmage he has loved going up against KU's defensive linemen during camp.
"Because every day we're working, every day we're trying to get better. Every day is physical," Ford said.
The redshirt freshman O-lineman said those battles up front are the result of the instructions coming from both Fuchs and D-line coach Kwahn Drake.
"It's just a fun time going against them," Ford added.