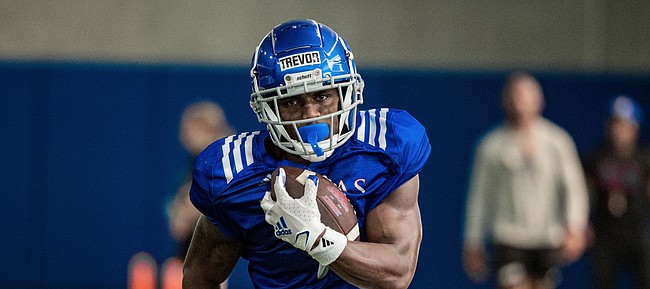 Lance Leipold could tell you all about Trevor Wilson's speed and potential as a playmaker, but when the Kansas football head coach gets to talking about the receiver he has gotten to know since their time together at Buffalo, Leipold's train of thought soon takes him to how Wilson made an impression on a personal level.
This past February, when Leipold's father, Ken, died, Wilson reached out to his head coach.
"You don't really see many 20-year-olds go, 'Coach, I'm here for you, just like you were here for me,'" Leipold said. "It's a neat thing."
Wilson, a sophomore receiver entering his first season with the Jayhawks, said it was easy for him to take that step with Leipold, because his head coach had just supported him in that very fashion months earlier.
Wilson's father, Robert, died in September of 2020 at the age of 46 from complications following a stroke. He remembers Leipold checking in on him regularly through an overwhelming period of grief, sometimes three to five times a day.
"Coach Leipold has always been like another father figure to me," Wilson said. "Whenever I was going through that hard time with my father, Coach Leipold was there for me. He was there for me more than some of my family members were. So I feel like that bond drew us a lot closer, because I had a different perspective on him after that."
When Leipold's father died, Wilson said he found himself texting and calling his coach periodically not just to return the favor, but because he cared about their "heartwarming conversations" and wanted Leipold to "come back and be the same coach."
The bond they formed made it a no-brainer for Wilson to want to continue his player-coach relationship with Leipold at KU.
"I just trust in Coach Leipold. I believe in him. He's an excellent coach and that's one of the main reasons I didn't hesitate to follow him over here," the receiver said, adding he is trying to help the former UB head coach change the culture within the KU football program.
Robert's lasting impact
Appearing in all seven games for the Bulls in 2020 as a redshirt freshman, Wilson contributed 16 receptions for 319 yards and three touchdowns. Leading up to his debut with a different program this fall, he described himself as a team player who likes to think about ways to help out other people on the field.
Athletically, Wilson said his speed is his biggest strength, and he has his late father, Robert, who played in the NFL for the Seahawks and Saints, to thank for that. Robert encouraged Trevor throughout his childhood to hone that skill, because as his dad used to tell him, "If you can run track, you can play any sport."
Trevor Wilson, who won a Florida high school state championship in the 400-meter dash as a junior in 2018, was "very close" with his father. The day after he scored his first college TD at Buffalo, Wilson posted on his Twitter account how he wished he could call up his No. 1 fan — his dad — afterward "so that he could tell me everything I did wrong instead of congratulating me."
"No matter what I did, good or bad, he was always criticizing," a laughing Wilson explained during KU's media day earlier this week. "I feel like that's what got me here today. My dad was my biggest fan."
From brother to father figure
The memories he has of his father and their conversations remain Wilson's motivation, the driving force behind everything he does. That includes taking on more of a paternal role with his two younger brothers, who still live in Tallahassee, Fla., with their mother.
"They look up to me. I'm their role model," Wilson said. "I just want the best for them. I want them to be better than me, just like my dad wanted us to be better than him."
Naturally, the two younger Wilson brothers are football players, too. Robert Jr. is a senior cornerback at Lincoln High in Tallahassee. Rated as a two-star prospect by Rivals, Robert Jr. already has committed to play at Louisiana Tech. Raylen Wilson is a junior outside linebacker at Lincoln who is considered to be a four-star talent in the Class of 2023. Raylen already has offers from Alabama, Clemson, Florida State, LSU, Georgia, Florida and KU, among many others.
Trevor said they stay out of trouble, so that keeps him from worrying too much about his younger siblings. But he still makes sure to check in with them every morning and every night.
"I just want to make sure they wake up in the morning and do the things that my dad would want them to do," the oldest Wilson brother explained.
Getting comfortable at KU
Wilson didn't think relocating from Buffalo and the MAC to Lawrence and the Big 12 would be too strenuous, given his relationship with Leipold and his familiarity with coordinator Andy Kotelnicki's offense. But once he got on campus he found one of his new coaches to be a natural fit, too.
Receivers coach Emmett Jones, Wilson said, actually reminds him a lot of his father.
"The way he coaches, the way he gets on players," Wilson said of the qualities he recognized and appreciated with Jones. "It's something that I didn't have to adapt to. I automatically knew exactly how to do it, because it's just how I've been coached all my life."
Wilson said Jones focuses on different aspects of playing the position than other coaches he played for in the past, and he feels himself improving through repetition at preseason practices.
During camp this month, Jones said Wilson has proven to be both "extremely explosive" and a student of the game.
"He's a fast learner, takes coaching well. I'm on him kind of tough at times," Jones said. "Right now he doesn't know how good he can be — after enhancing his technique."
Leipold has been around Wilson for more than two years now, dating back to when the wideout joined UB as a mid-year enrollee before redshirting during the 2019 season. Over their time together at Buffalo and now Kansas, Wilson keeps impressing his coach with his development as a player and as a young man.
"He's really matured," Leipold said. "After losing his father he's been thrust into some roles that have really elevated him as a person. He's really taken a turn, just in how he approaches everything. And it's been really neat to see."