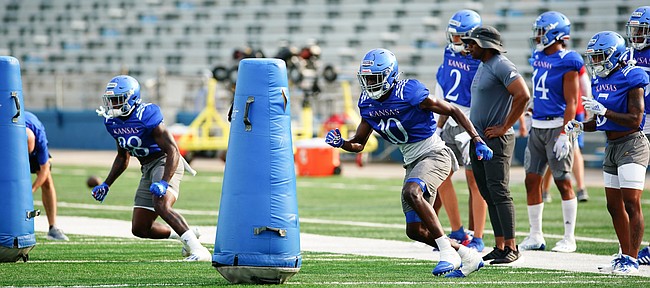 It won't be long before head coach Lance Leipold and his Kansas football staff will have to settle on a depth chart for the Jayhawks' Sept. 3 opener versus South Dakota. Not that Leipold is in any kind of hurry.
"I think some of it just kind of naturally flows," Leipold replied on Tuesday, when asked at KU's media day about a time frame for determining first and second units. "Yeah, it's coming. Maybe not as fast as all of you may like or want it to be."
Because Leipold and the assistant coaches he brought with him from Buffalo — offensive coordinator Andy Kotelnicki, defensive coordinator Brian Borland, offensive line coach Scott Fuchs, linebackers coach Chris Simpson and quarterbacks coach Jim Zebrowski — didn't begin working at KU until after spring football concluded, Leipold doesn't see any harm in taking some extra time to keep evaluating the players during the preseason.
In fact, Leipold hopes that approach will help the "competitive culture" of his team's practices.
"The longer we keep that going," he said of evaluating position battles, "the more locked in and the more development and competition for everyone that we'll have."
WRs catching on to new language
Before KU's receivers could execute their roles within the new offense installed by Kotelnicki this offseason, they first had to learn a new language — at least in gridiron terms.
Since the start of preseason camp earlier this month, receivers coach Emmett Jones said he has witnessed players within his group make significant progress on that front.
"One thing I give the guys credit for is understanding terminology, spending time after hours getting used to hearing certain calls, getting used to communication in the huddle," Jones said on Wednesday, shortly after KU's 12th camp practice.
The receivers came into the learning process already possessing the knowledge they needed to run certain route concepts and work as blockers on the perimeter, but hearing the new verbiage repeatedly, Jones said, has helped get them comfortable with Kotelnicki's scheme.
Jones applauded the receivers for spending extra time in the facility studying the lingo and said KU's quarterbacks helped his group, too, by talking it over with the receivers.
In a no-huddle offense, Jones said, players have to pick up all the signals from the sideline. But in Kotelnicki's offense, the Jayhawks are huddling, so all of the players need to retain all of the jargon they might hear on the field with the play clock ticking down.
"There's crucial terms in there referring to certain receivers and certain guys on the field," Jones explained.
The third-year KU assistant has been happy to see his receivers take that seriously.
"It won't operate," Jones said of the offense, "without understanding the proper terminology."
ESPN: Leipold 1 of top coaches of past 50 years
In the buildup for the coming college football season, ESPN's Bill Connelly ranked the top 101 head coaches in the sport from the past 50 seasons. Entering his first year at KU, Leipold landed in the top half of the list.
Connelly slotted Leipold, who has a 146-39 career record between his eight seasons at Division III Wisconsin-Whitewater and six years at Buffalo, at No. 46.
"The former UWW QB absolutely wrecked shop from the start, winning an incredible 109 games and six national titles in eight years at his alma mater," Connelly wrote. "In search of a new challenge, he built Buffalo into a MAC heavyweight, and now he takes on the ultimate challenge: the Jayhawks."
Leipold came in one spot ahead of the man he was hired to replace, former KU, LSU and Oklahoma State coach Les Miles.
No other KU coaches made the list.