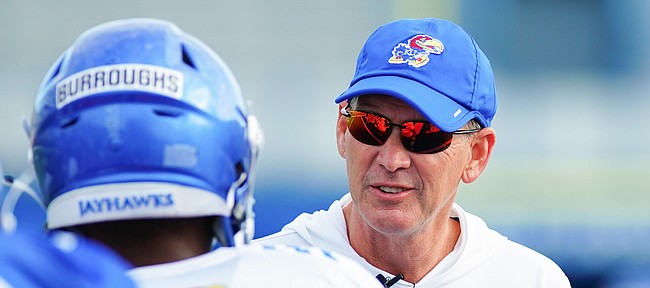 As much as head coach Lance Leipold and his staff had learned about their Kansas football team through the first week-plus of preseason practices, the coaches found out even more about the Jayhawks during a scrimmage on Sunday night.
Speaking with media members for the first time since KU's initial camp scrimmage, Leipold said Tuesday during the program's media day he enjoyed seeing some players who "really competed" under the lights at David Booth Kansas Memorial Stadium to kick off the week.
Though the head coach didn't want to reveal the details of specific position battles that were on display, Leipold explained some of the ways he gauges progress in that setting.
"Overall, I watch a lot of the other things around the program during the day, like how we practice, how we transition, who's on the sideline, who's paying attention, where it's at and where you're supposed to be," Leipold said. "I was really pleased with that part."
This is Leipold's first time leading a Power Five team, but it's not his first time taking over a program. Reflecting on earlier in his career and how things can go during the first year or two after a regime change, Leipold thinks the Jayhawks are in a good spot.
"That type of discipline," KU's head coach said of what he saw on the periphery, "and locking in to do it, that's a tribute to our assistant coaches and talking about what we expect and then implementing that."
As far as the execution on the field went, Leipold said the Jayhawks just have to be more consistent in every aspect of the game.
"There's flashes. And for us, now before kickoff we've got to make sure we are finding that and see who can consistently do it," he added, alluding to KU's Sept. 3 opener versus South Dakota. "And those will be the ones who see the most playing time."
Offensive coordinator Andy Kotelnicki said he ultimately learned the most about where KU's offense is at through the way the players responded in their first practice after the scrimmage. Mistakes were made, and Kotelnicki used them as teaching moments.
During a typical practice, the tempo is so fast that players have to move past miscues immediately, without thinking about the ramifications. But with the offense scrimmaging against the defense, Kotelnicki said errors felt more costly. Even small penalties, of course, can turn a 1st and 10 into a 1st and 15, or negate a 1st down and bring the offense back to 2nd and 5, he gave as some examples.
"We're not going to play bad football," Kotelnicki said. "Bad football's going to get you beat way before playing good football's ever going to win you a game."
Prior to the ensuing practice, Kotelnicki said the staff showed the offense "every one of those plays" where costly mistakes were made again.
"We are in the never-ending quest to eliminate bad football in this program," the offensive coordinator said. "And I'm talking about turnovers, I'm talking about penalties, I'm talking about mental errors, I'm talking about negative runs. Those are the things that are bad football."
When the Jayhawks practiced again Tuesday morning, Kotelnicki saw an offense that responded to the challenge and looked "pretty clean."
"For guys to see that, in the spotlight so to speak, when there's just 22 guys out there on the field, it's good," he said of one of the benefits of the scrimmage. "It sinks in a little bit more."
On the other side of the ball, defensive coordinator Brian Borland said he witnessed "really good" effort from his group during the scrimmage, which marked the first time during camp that a practice had a lot of live reps.
"We track loafs — players that don't finish plays well — every play, and grade on those kinds of things. We had very few loafs," Borland reported. "I think we're trying to play fast as a defense, which is another really good part about it."
While Borland thought the defense had some success, he also noted he wants the Jayhawks to "clean up" some issues they ran into while defending in the red zone.
"But overall I felt pretty good about the progress that we made that day," Borland said.
Parker finally practicing
After missing the first 10 sessions of the preseason, defensive end Steven Parker finally got cleared to practice with his teammates on Tuesday. A 6-foot-4, 222-pound sophomore, Parker had appeared on the team's unavailable list every other day at camp.
Parker started two games for the Jayhawks in 2020 and finished the year with 27 total tackles and three tackles for loss.
Big 12 announces forfeiture policy
Unlike last year's Big 12 schedules, which featured some makeup dates for teams that had to postpone competition due to COVID protocols, the conference office announced Tuesday there won't be any rescheduling this year.
If a team can't play because it doesn't have enough players available to compete this fall, that team will have to forfeit and will be assessed a loss. The opponent would get credit for a victory in that scenario.
KU Athletics spokesperson Dan Beckler told the Journal-World on Tuesday that the football roster currently has an 87% vaccination rate.
"A forfeit can be declared at any point before a completed contest, and when possible would occur prior to the visiting team commencing travel," the Big 12's policy reads.
And if the league ran into a situation where neither team could compete, it would be considered a no contest, without any wins or losses being added to either team's record.
_____
Tale of the Tait: Four takeaways from Tuesday's KU media day