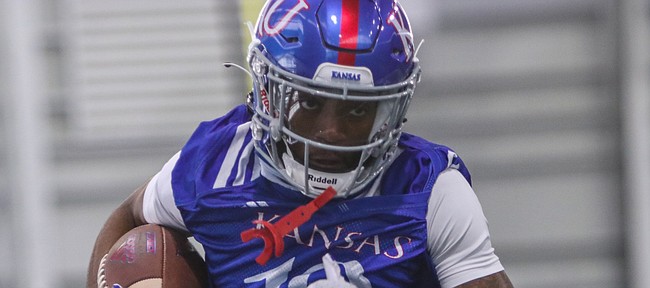 August is the time of year when college football veterans usually keep their eyes on younger teammates, to see which ones look like they might be capable of taking on larger roles in the fall.
Kansas super-senior Kwamie Lassiter II said a couple of underclassmen in particular have impressed him so far this preseason.
Sophomore Steven McBride, Lassiter reported, is really standing out by making plays — and not just with his receptions.
"When the ball's come his way, he's been blocking good," Lassiter said of McBride proving to be multidimensional.
The sixth-year KU receiver also has appreciated the approach and ability of a wideout who has only been on campus a couple months, Tanaka Scott. Lassiter called Scott, a 6-foot-4, 200-pound freshman from Mobile, Ala., a "real physical receiver," who is blocking well and making plays when the ball comes his way.
With Scott's size, it's possible he could turn into a downfield threat within the offense. And while that may be the biggest part of the young receiver's upside, Lassiter indicated Scott knows those opportunities may be few and far between.
"Whatever the play call is, you've got to go with it," Lassiter said. "He does his job."
During his recent interview with media members, Lassiter also was asked which of KU's receivers is the fastest.
The veteran smiled and paused before giving his answer.
"I'd say me and Steve (McBride). And Trevor Wilson. I don't know. I'd give it to Steve, maybe," Lassiter decided. "He's got them long legs."
A 6-foot, 170-pound sophomore from Napoleonville, La., McBride brought up the name of another wideout when asked who he thought was turning some heads with improved play.
McBride gave the nod to redshirt freshman Quentin Skinner.
"He's been working on special teams and on offense," McBride shared about Skinner, a 6-4, 183-pound receiver. "He's been working all (offseason), including the spring."
Another redshirt freshman who many expect to contribute this fall is Lawrence Arnold. Lassiter said the 6-3, 195-pound Arnold has looked good at camp, too.
"We're all learning this new playbook," Lassiter said, referring to the install process with offensive coordinator Andy Kotelnicki, "but everything's been good."