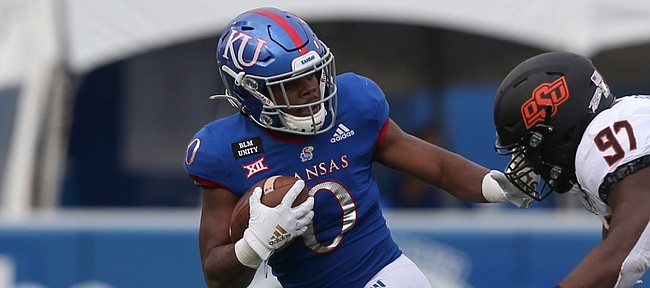 After seven Kansas football preseason practices without a blue No. 0 jersey anywhere to be seen, the man who wears that uniform, junior running back Velton Gardner, finally made his camp debut on Friday.
An undisclosed injury kept Gardner from even suiting up until the eighth practice of camp, but his position coach, Jonathan Wallace, said the team's leading returning rusher didn't have the appearance of someone playing catchup.
"He looked really good. He's moving around really well, looked like he hadn't missed anything at all," Wallace told reporters after Friday's practice.
Between Gardner missing the first seven practices and the KU staff having to limit some of the other running backs at times due to various dings or issues over the course of the first week of camp, Wallace left the team's latest practice upbeat.
"We're always excited to have our full group out there. Especially for Velton to be able to get back out there," Wallace said.
A 5-foot-9, 199-pound junior from Dallas, Gardner led KU in rushing in 2020 even though he only appeared in six games. Gardner averaged 4.5 yards per carry and totaled 325 rushing yards to go with two rushing touchdowns before he missed the final three games of his sophomore season due to an injury.
Ahead of Gardner's his third season for KU — he averaged 5.3 yards per carry as a true freshman in 2019, when he opened the season behind both Pooka Williams and Khalil Herbert on the depth chart — Gardner is considered by Wallace to be a change of pace back within a deep running back group. Sophomore Daniel Hishaw Jr., true freshman Devin Neal and redshirt freshman Amauri Pesek-Hickson, along with Gardner, all could factor into what the Jayhawks do offensively this season, under new head coach Lance Leipold and offensive coordinator Andy Kotelnicki.
Wallace described Gardner as a "very, very quick twitch" skill player for the offense. And the running backs coach said Gardner even could be effective within the passing game, helping the offense get the ball downfield.
"He brings some good things, not just from a run standpoint, but also from a passing standpoint, as well," said Wallace, who said Gardner could create some mismatches against linebackers and some safeties in certain scenarios.
Last season, Gardner only caught six passes for 18 yards. As a freshman, when he appeared in 10 games, Gardner had six receptions for 24 yards.
Gardner's best game for the struggling KU offense in 2020 came in the season opener, when he ran for 81 yards and a TD versus Coastal Carolina.