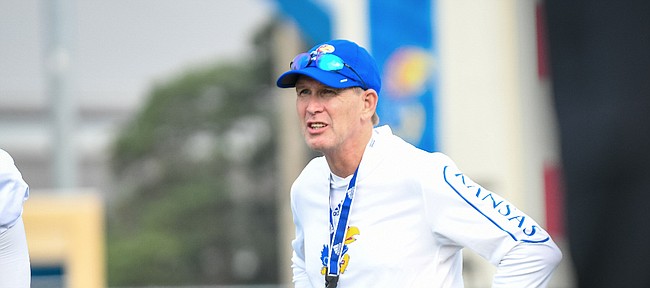 A week into his first preseason camp in charge of the Kansas football program, head coach Lance Leipold thinks there's "a lot" his Jayhawks must shore up in order to be successful.
In his mind, Leipold said following KU's sixth practice of camp on Wednesday, "everything" needs to get better.
And though the program's new head coach prefaced what followed by saying he wasn't picking out a group in particular, Leipold said the Jayhawks need to improve up front on both sides of the ball.
"We have to be better to establish a running game. We have to be better at protecting the quarterback," he said. "And that is a heavy emphasis, and that's tight ends and running backs included."
With the offensive line in particular, Leipold said the Jayhawks need to find "five guys who are really going to work together and give us a chance." Once they can hit that checkpoint, the coach said the next step will be coupling sound O-line play with an effective passing game.
Speaking of quarterbacks, Leipold went out of his way to say he's "not ready to make any real comments about where that (competition) is lining up right now."
The three candidates for the starting job are the two players who started at QB for the Jayhawks in 2020 — Jalon Daniels and Miles Kendrick — and transfer Jason Bean, who previously started at North Texas. Whomever breaks through as QB No. 1, Leipold said, will have to prove he can make good decisions with the football.
"Our accuracy has to continue to get better as well to get us going," the coach said of what he's looking for out of the QB candidates.
Leipold circled back to his philosophy that teams "win championships up front on both sides of the ball" when giving his assessment of the defense.
"We've got to be able to stop the run better. And give us a chance to be in normal downs and distances as we go," he said.
As the Jayhawks continue preparing for their Sept. 3 season opener versus South Dakota, Leipold said he considers them to be a "work in progress" on both offense and defense.
"We'll see those (areas that need improvement), and keep working on those through camp," Leipold said.
Still no Gardner or Parker
Two third-year players with starting experience at KU on their résumés, junior running back Velton Gardner and redshirt sophomore defensive end Steven Parker, still have not gone through their first Leopold-led practice.
The head coach didn't disclose on Wednesday how soon either Gardner or Parker will be in uniform at practice and off the team's unavailable list.
"I've not been told yet from our medical staff when they will (return)," the coach said. "I hope it'll be soon here. Want to get them back and get them going."
Both Gardner and Parker have missed all six of KU's preseason practices.
Redshirt freshman linebacker Alonso Person was the only other player on the unavailable list on Wednesday. Person has now missed four practices at camp in total.
1st session in full pads
Practice No. 6 marked the first time during camp the Jayhawks wore full pads for a practice.
Mike Novitsky, a junior who played for Leipold and his staff at Buffalo before transferring to KU this summer, said the switch from shells to full pads only felt a little bit different for the offensive linemen.
"You're really using the same kind of physicality and stuff," Novitsky said of his group's work during drills and team situations.
Novitsky said wearing full pads mainly felt different when O-linemen were "huddling around the ball when a running back breaks (a long run) and making sure there's no fumbles. Policing the piles — just finishing the play, basically."
Jayhawks head indoors
With a heat advisory in effect on Wednesday, the Jayhawks only had a portion of their morning practice outside, before heading indoors for the first time during camp.
Leipold said that plan came together via the recommendation of Trent Carter, the team's head athletic trainer.
"We knew it was going to be a hot one today, so we split it up. Did the first third or so out there and then transitioned in," Leipold said.
The coach said the objective was to keep the players safe.
"We do a lot of hydration testing here and checking where they're at," Leipold added, saying putting an emphasis on that also reduces cramping for players.
Vaccinations within program
Asked during his post practice press conference about the vaccination rate on the team, Leipold didn't provide a specific number or percentage.
"We're doing pretty well, though. I'm pleased," Leipold said, adding that information is only being shared on the administrative side of the team's operations and not being shared publicly at this time.
"Obviously not just within college football, but with our campus and county and state it's a changing thing right now," the coach said of the pandemic. "Our precautions are always to keep our players safe and healthy."
Practice visitors
As the Jayhawks opened Wednesday morning's practice, a few out of the ordinary visitors roamed the sidelines. Among them was first-year KU Athletic Director Travis Goff, who of course hired Leipold to take over the program this past spring.
Former standout KU linebacker Ben Heeney, who played for the Jayhawks from 2011-14, also attended the practice, as did a few NFL scouts.