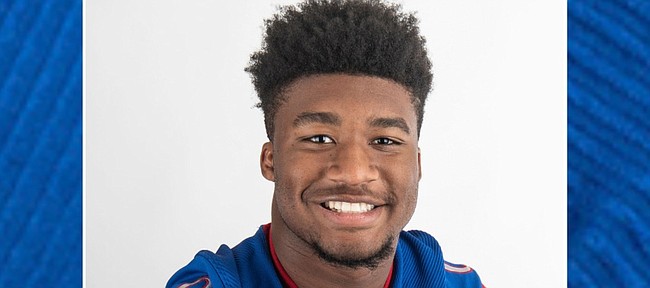 Lance Leipold didn't recruit true freshman Devin Neal, but the first-year Kansas football head coach sure is glad to have the former Lawrence High star running back on board.
At 5-foot-11 and 210 pounds, Neal didn't look like a typical incoming freshman skill player when he joined the roster this summer. But Neal's physicality and stature, Leipold said, are just a portion of what has helped the young back make a good first impression.
"To see him and his maturity, the thing I love about the young man is his personality, his character and what he's all about," Leipold said of Neal.
Even before preseason camp began for the Jayhawks this past week, Leipold said he learned that Neal was the type of player who on a daily basis takes care of his body, studies pertinent video clips and more.
"He's asking questions," Leipold said of another aspect of Neal's approach that was a good sign. "He has definitely got the makeup not just in stature, speed, those things, but in how to go about it — as we like to say, to be a pro."
Before Neal became KU's top-rated recruit from the Class of 2021 to join the program, he ran for 1,370 yards and 20 touchdowns as a senior at Lawrence High.
In his first year suiting up for the Jayhawks, Neal appears to be in the mix to contribute immediately, even though he plays at a position that has some depth. Sophomore Daniel Hishaw Jr., redshirt freshman Amauri Pesek-Hickson and junior Velton Gardner (who has been out for KU's first five preseason practices due to an undisclosed injury), as well as Neal, all could play a factor offensively this fall.
"It's going to be exciting to see him compete here the next few weeks," Leipold added of Neal.
Webb a key addition in secondary
When KU defensive coordinator Brian Borland saw one of the team's newest additions, graduate transfer Jeremy Webb, in person for the first time just before camp got started, Borland couldn't help but notice some of the veteran cornerback's measurables.
"He's tall, he's long. There's a huge advantage to that," Borland said of Webb, who is listed at 6-foot-4 and 205 pounds.
Leipold's longtime defensive coordinator, dating back to their years together at both Buffalo and Wisconsin-Whitewater, Borland said he likes to have players with size and length in the secondary who can use their hands to be disruptive and defend passes.
"We're counting on him," Borland said of Webb, a super-senior who played previously at both Missouri State and Virginia Tech. "But we've got to count on all of those guys out there. The fact that he's a grad transfer that's played some Division I football before I think is extremely helpful, because obviously we're young at that position otherwise."
Other key contributors at corner are expected to be sophomore Duece Mayberry, freshman Jacobee Bryant and redshirt freshman Ra'Mello Dotson.
"We're pretty young in the secondary," Borland said. "I think (Webb's experience) will certainly help, but also the way that he's going about it is the right way and it'll benefit us."
Kotelnicki expects TEs to contribute
Part of offensive coordinator Andy Kotelnicki's responsibilities include coaching the Jayhawks' tight ends. A few days into working with those players during practices for the first time, Kotelnicki felt "very happy" about how they're progressing.
Junior Mason Fairchild and redshirt freshman Trevor Kardell, the O.C. said following practice on Sunday, have looked "really good" early on in camp. Kotelnicki also noted 6-7, 253-pound redshirt freshman Will Huggins is developing nicely.
Though they're listed on the roster as fullbacks and not tight ends, senior Ben Miles and juniors Mac Copeland and Spencer Roe work with Kotelnicki's group, as well, in more of an H-back role.
"All of those guys are getting reps and they're all going to be able to have a role in what we're doing," the coordinator said.
Kotelnicki also mentioned freshmen tight ends Mason Brotherton and Mack Moeller "are coming in and picking up" the offense.
"They're super coachable. They're a great group to coach," Kotelnicki said of the tight ends and fullbacks. "They're on top of the things that we did all summer long. They're a blessing."