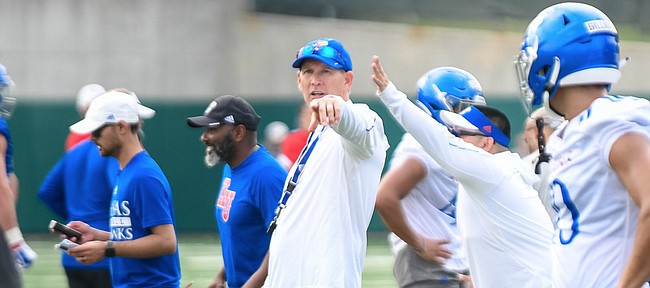 University of Kansas football fans will have a couple of chances this weekend to learn a little bit about where the program is headed now that Lance Leipold is the head coach.
Leipold, the team's first-year head coach, will be one of the featured speakers at the athletic department's preseason pep rally in Prairie Village on Friday night, and then will welcome fans in for an open practice on Saturday morning back in Lawrence.
The KU Kickoff event on Friday is scheduled to begin at 6 p.m. at Corinth Square, on the corner of 83rd St. and Mission Road, in Prairie Village. Both Leipold and KU Athletic Director Travis Goff are will speak to fans at the family centric event, which includes games for children, food, drinks, giveaways and appearances by KU's pep band, spirit squad and mascots.
The following morning, the KU football program will allow fans to attend and watch the entirety of its Saturday practice, slated to begin at 8:30 a.m. inside of David Booth Kansas Memorial Stadium.
The practice is free to attend and gates open at 8 a.m. Fans can park on the west side of the stadium and enter the venue through the southwest corner, at gates 1, 4 and 9. Fan seating will be available on the west side of the stadium.
The KU athletic department, in accordance with Douglas County Health, recommends all fans — including those who are vaccinated — wear masks in crowded outdoor spaces.