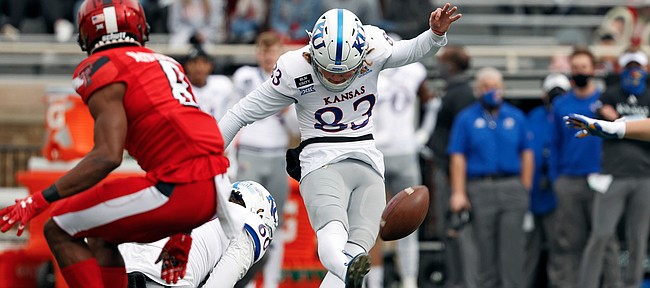 The preseason practice schedule is still young, but Kansas football special teams coordinator Jake Schoonover already has a good idea which specialists and returners he'll likely be trusting during games this fall.
"There are definitive roles and leaders in those groups," Schoonover said of the mostly drama-free competitions on Monday, following the Jayhawks' fifth practice. "But there's also a good backup at each spot that will help contribute there, too."
Schoonover said Reis Vernon, who took over KU's punting duties late in the 2020 season as a true freshman, has done a good job holding down that job.
"He's kind of the leader in that group. Although Grayden Addison has done a very good job," Schoonover added, referring to the true freshman backup punter and sharing that Addison had "a good five days" to open camp.
A 6-foot-2, 204-pound sophomore from Bixby, Okla., Vernon punted in each of the final five games for KU this past fall. He averaged 37.8 yards per punt, with a long of 50 yards. Four of his 38 punts on the season went inside the opponent's 20-yard line, 11 ended as fair catches and one was a touchback.
Sophomore Jacob Borcila, Schoonover said, is the leader in the field goal competition.
"He's got to continue to improve his consistency. We're excited to see what the next 20, 25 days bring with him," Schoonover added, saying he wants Borcila to find a regular approach and repeatable mechanics.
A 6-2, 190-pound kicker from Westerville, Ohio, Borcila appeared in all nine games for the Jayhawks in 2020, but had few field goal opportunities. He finished 6-for-9 on field goal tries on the year, with a season-best long of 48 yards late in the schedule versus TCU. One of his three misses came from 53 yards out in the opener against Coastal Carolina.
Borcila went a perfect 10-for-10 on extra points this past fall.
Sophomore Tabor Allen is expected to continue handling the Jayhawks' kickoffs.
"Tabor Allen's got a big leg and does a good job on kickoffs, and I feel good about him with that and him helping our coverage a lot," Schoonover said.
As a true freshman in 2020, Allen kicked six touchbacks on his 18 kickoffs, while playing in the final six games of the season.
At long snapper, Schoonover said sophomore Luke Hosford has been "very consistent," making the coach "very happy" with where Hosford is at.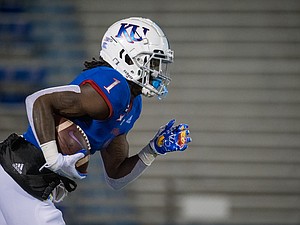 A little more variety could play into the return game for KU. When it comes to the team's more glamorous special teams spots, Schoonover also thinks the Jayhawks have good options.
Kenny Logan Jr., he said, will be in the end zone to return kickoffs as much as possible. Because the junior safety also is "so valuable" for the defense, Schoonover said, that could impact how often Logan is used on special teams.
"As he's fresh he'll get opportunities there," the coach said of Logan, who had a 100-yard return for a touchdown in 2020 and averaged 26.5 yards per return. "He's got a fearless mentality back there, able to attack it and hits those creases hard, understands how to set up returns."
Speedy KU wideout Jamahl Horne, Schoonover said, also has done a good job with kick returns. The coach noted Horne, a junior, is working on his consistency with ball security and decision making on kickoffs.
Horne averaged 22.6 yards per return in 2020, when he returned a team-high 15 kickoffs, but also missed the final four games of the season.
Another contributor on kickoffs figures to be one of the team's newer players, former Buffalo receiver Trevor Wilson, whom Schoonover described as "extremely explosive."
The other man back to receive kickoffs with the lead returner — an "unsung hero" spot, as Schoonover called it — will likely also end up with a few returns of his own, too, but ultimately has to be a good blocker more than anything else. That responsibility could often end up falling upon sophomore receiver Luke Grimm.
"You put him anywhere and he'll do a good job," Schoonover said of Grimm.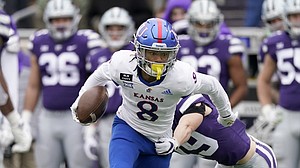 It looks like KU's regular punt returner from last year, Kwamie Lassiter II, will retain his special teams job, as well.
"Obviously we're looking for guys that catch the ball there first," Schoonover said of why Lassiter, a super-senior receiver, was the man for the job. "And you can rely on him to catch the ball and make sure our offense gets on the field."
In 2020, Lassiter often ended up not fielding punts or calling for a fair catch as a returner. He only returned a punt on four occasions, netting minus-5 yards.
Both the "great" hands and decision making of redshirt freshman Kyler Pearson make him an option at punt returner, too, the coach said.
"He's got a little knack for how to handle the ball in traffic and how to set up a return and do some things," Schoonover added of the 5-foot-8, 155-pound Pearson, who is a receiver from Tulsa, Okla.
KU's special teams coordinator said he likes Lassiter and Pearson "a lot," and thinks Wilson will mix in with the punt returners some, too, as the staff works with the 5-11, 200-pound sophomore on some of his mechanics with catching punts.
"He's got some very natural feel to how to go," Schoonover said of Wilson.
Gardner, Parker miss another practice
Monday marked the fifth straight day potential starters Velton Gardner and Steven Parker missed practice and appeared on the team's unavailable list. Gardner, a junior running back, and Parker, a sophomore defensive end, have yet to practice since KU opened camp this past week.
Gardner and Parker are the only players on the roster who haven't practiced yet this preseason.
The only other player who didn't suit up for Monday's practice was redshirt freshman linebacker Alonso Person, who also missed the first practice and Sunday's session.