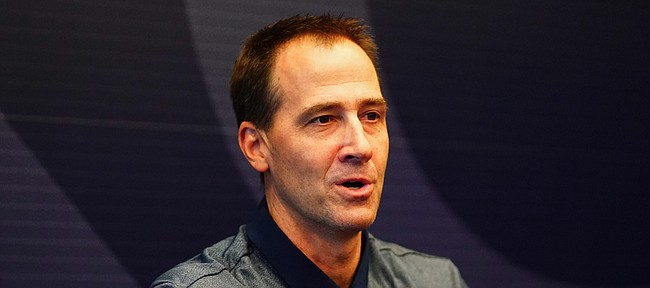 There's only so much a quarterbacks coach can learn about his players after two practices with them, but Kansas assistant Jim Zebrowski is doing what he can.
Following Friday's preseason session, Zebrowski, who followed Lance Leipold from Buffalo to Lawrence late this past spring, said it was good just to watch the Jayhawks' QBs throw in person and that he loves their attitudes and effort levels.
What he plans on discovering, though, is which players can handle the way he coaches.
"I'm hard on guys. But I'm also a high-fiving, chest-bumping type guy," Zebrowski said. "My biggest thing is trying to figure out which guys can handle some adversity and then get the rest of the team to kind of rise with them and fight through it."
A former QBs coach at UB, Minnesota and Northern Illinois over the past decade-plus, Zebrowski also wants to see what happens to each QB on the snap that follows a bad play.
"I'm a big focus, refocus guy," he said. "Do they keep making mistakes?"
Additionally, Zebrowski is monitoring how quickly each QB is picking up coordinator Andy Kotelnicki's offense and all that comes with the play-calling and verbiage.
A QB who is in control, the assistant said, will be able to put teammates in motion, kill plays at the line of scrimmage, check into other plays and more. Zebrowski wants to discern which QB can process large amounts of information in a short amount of time.
"I'm trying to figure out what I need to work on with these guys," he said. "What each guy needs help with."
Summer prep paying off
After two days of practice, the players who were made available for interviews hesitated to share many details about what transpired during the team's closed preseason sessions.
But sophomore quarterback Jalon Daniels said he felt encouraged by something he noticed on the practice fields as the team opened preseason camp this week.
Once KU strength and conditioning coach Matt Gildersleeve began working with the Jayhawks early this summer, Daniels said he "implemented a culture that I've never seen before in my life."
Having already gotten used to a new approach the past couple of months, Daniels said the players carried what they learned from "Coach Sleeve" into preseason camp.
"It's more of an uptempo type of thing. Even when we're in the weight room we're going to treat it like we're on the field," Daniels shared. "Move around everywhere. No walking around. Jog around to the next rack, to the next play on the field, to the huddle, everywhere."
Junior QB Jason Bean also declined to share any specifics about standout moments from the first two days of camp, but thought the Jayhawks opened up the preseason well.
"I think the main thing we're focusing on is trying to stack good days on top of good days," Bean said, "and just trying to get better each day."
QB appreciates young WRs
Asked whether any teammates had surprised him early on at camp, Daniels saluted some of the offense's less experienced passing targets.
"There's a lot of young guys who never got the chance at receiver to be able to showcase themselves on the game field," the sophomore QB said.
In particular, Daniels pointed to the early preseason signs from sophomores Steven McBride and Tristan Golightly, as well as redshirt freshman Quentin Skinner.
"They're going to put a lot of work into this offense this year," the QB predicted.
McBride played in four games and caught six passes for 17 yards in 2020, while Golightly appeared in all nine games but played sparingly, with just two receptions for 22 yards.
Out on Day 2
Potential starters Velton Gardner, a junior running back, and Steven Parker, a sophomore defensive end, again were unable to practice on Friday. The names of Gardner and Parker were two of the nine to appear on the team's unavailable list on Thursday.
Receivers Majik Rector and Jordan Brown also didn't dress for the second day in a row.
However, redshirt freshman linebacker Alonso Person, sophomore receiver Torry Locklin, freshman receiver Tanaka Scott, junior receiver Kevin Terry and redshirt freshman fullback Jared Casey were removed from KU's unavailable list on Friday.
New additions for the second day of practices were redshirt freshman center Garrett Jones and freshman linebacker Trey Staley.
Name change
Formerly Armaj Adams-Reed, the sophomore KU offensive lineman had his last name legally changed recently to Reed-Adams.
Now listed at 6-foot-5 and 345 pounds, Reed-Adams looked like a possible starter at right guard during KU's spring practices.
A two-star Rivals prospect in KU's 2020 signing class, Reed-Adams played in each of the Jayhawks' final five games this past fall, making three starts as a true freshman.